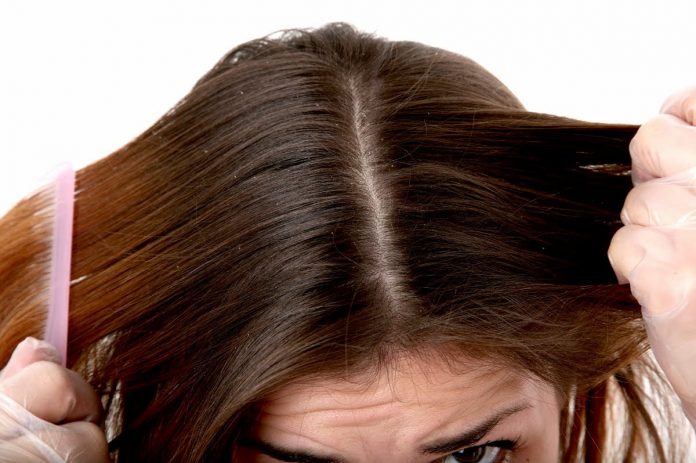 Dandruff will be the result of a dry scalp, or a skin condition called seborrheic dermatitis. It could also cause by eczema, psoriasis, or, very commonly, an overgrowth of yeast like a fungus called Malassezia. Drugstore remedies might include shampoos with the zinc pyrithione, which targets fungus & bacteria; ketoconazole, which also works fungus; coal tar and selenium sulfide, which slow the growth and die-off of skin cells on the scalp; & salicylic acid, which loosens flakes so they can washed away. For natural treatments, read on How to Get Rid of Dandruff.
How to Get Rid of Dandruff
Aspirin
Aspirin includes the same active ingredient called salicylic acid as many medicated dandruff shampoos. Keep flaking in check by crushing two aspirins to a fine powder and adding it to the proper amount of shampoo you use each time you clean your hair. Leave the mixture on your hair for 1-2 minutes, and then wash well and rinse again with plain shampoo.
Tea tree oil
One study showed that the shampoos with just 5 percent tea tree oil significantly improves the severity of dandruff. You can also mix the few drops of tea tree oil to your favorite shampoo as you wash regularly.
Baking Soda
Being a mild exfoliant, baking soda helps to remove dead skin cells and absorbs excess oil. It can also improve balance pH levels on the scalp and lessen the growth of fungi that cause dandruff.
Wet your hair and massage a handful of baking soda into your scalp.
After a couple of minutes, rinse the hair well with the warm water.
Repeat once or twice a week for the few weeks.
Note: Do not shampoo your hair after this treatment.
Apple Cider Vinegar
Scalp treatment with apple cider vinegar is sufficient in getting rid of dandruff. It restores the pH balance of the scalp, thereby restraining the growth of yeast. It also works as the natural hair clarifier & helps clean clogged pores and hair follicles.
Take two tablespoons of apple cider vinegar.
Mix an equal quantity of water and 15-20 drops of tea tree oil in it.
Apply it to your scalp and massage. Wash your hair after a few minutes.
Follow this natural treatment 2 or 3 times a week.
Mouthwash
To treat a severe case of dandruff, wash the hair with your regular shampoo, then rinse with an alcohol-based mouthwash. Follow with your regular conditioner. Mouthwash's anti-fungal properties aid prevent dandruff-causing yeast from growing.
Coconut Oil
Coconut oil helps reduce dandruff due to its antifungal properties. It also moisturizes dry scalp & gives relief from itching.
Take some coconut oil and mix half the amount of lemon juice in it.
Rub it on the scalp and massage for a few minutes.
Wash your hair after at least 20 minutes.
Follow this natural remedy two to three times a week.
White Vinegar
White vinegar is one of the best home treatments for dandruff. Vinegar has acetic acid that prevents the growth of fungi on the scalp & relieves itching.
Add one-half cup of vinegar to two cups of water. Wash the hair with this mixture after shampooing the hair.
Another option is to massage your scalp with a mixture of two parts white vinegar, one part olive oil & three parts water. After 10 minutes, clean it off and shampoo the hair using a mild shampoo.
Follow either of these remedies once or twice a week.
Olive Oil
Scalp dryness can cure with the regular use of extra-virgin olive oil, an efficient natural moisturizer.
Heat some extra fresh olive oil until it is slightly warm.
Massage it into your scalp and then wrap the hair in the hot towel.
Leave it on for at least forty-five minutes or overnight & then shampoo and condition your hair.
Repeat this natural remedy a few times a week.
Lemon
Dandruff relief may be no considerably away than the refrigerator. Just massage two tablespoons lemon juice into the scalp & rinse with water. Then stir one teaspoon lemon juice into 1 cup water and rinse your hair with it. Repeat this daily until dandruff disappears. Lemon's acidity helps balance the pH of the scalp, which helps keeps dandruff at bay.
Garlic
Garlic's anti-fungal properties are perfect for removing dandruff-causing bacteria. Crush garlic and rub it into your scalp. To avoid that potent smell, many of them suggests mixing crushed garlic with honey and massaging into the scalp before washing as usual.
Salt
The abrasiveness of regular table salt works great for washing out dandruff flakes before you shampoo. Grab the salt shaker and shake some salt onto the dry scalp. Then work it through the hair, giving your scalp the massage. You will find you have worked out the dry, flaky skin and are ready for shampoo.
Aloe vera
Stop yourself from damaging by massaging aloe vera into the scalp before shampooing. The cooling effects of aloe vera would soothe the itch.