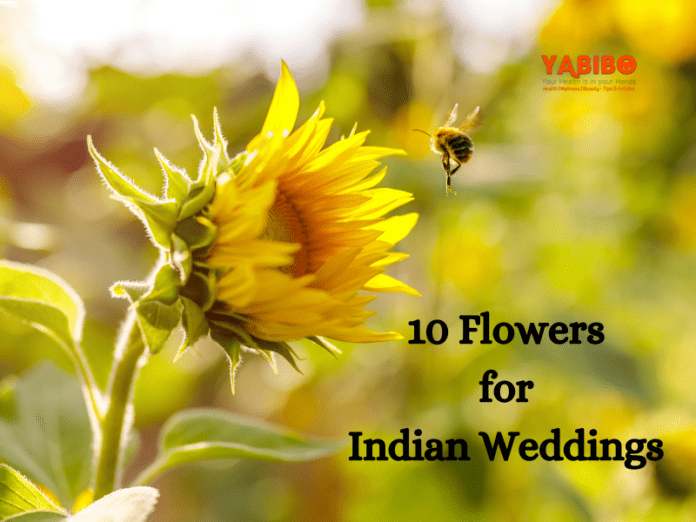 Flowers needed for an Indian wedding are many to choose from. In Indian weddings, the focus is on types of flowers used in wedding decorations as flowers are auspicious.
Traditional Indian weddings are no doubt performed in a lavish, vibrant manner. Many expenses and decorations are made use of including beautiful flowers. There are several types of flowers used in wedding decorations.
Indian brides make use of flowers as take-home gifts. A bride usually tucks flowers in her hair instead of a veil or wraps a nosegay around her wrist. In a Punjabi wedding, the bride's brothers tend to hold a sheet of flowers, which the bride walks under while approaching her groom. Sindhi brides wear jewelry as well as adornments made of flowers. The in-laws do give these accessories to the bride in a separate ceremony, referred to as 'Sagri.'
Flowers are also made use of to decorate the Mandap, a canopy that is erected in the center of the wedding. Here the sacred prayers are recited for the bride and groom. The Shamianas, or tents for the guests, are also decorated with flowers. Carmella is traditional Indian flower garlands that the bride and bridegroom exchange. They are worn around the neck and are usually made from roses, jasmine, or carnations.
While several brides opt for delicate flowers in subdued shades, Indian brides do love brightly colored, extravagant flowers. Red and gold are indeed traditional colors for an Indian wedding, although other colors are also becoming more common.
Indian Wedding Flowers
These are flowers needed for an Indian wedding:
1. Chrysanthemums
In some cultures, white chrysanthemums are usually made use of at funerals, but Indians often use all shades of these sturdy flowers for wedding bouquets as well as garlands. Chrysanthemums symbolize long life, joy as well as optimism.
2. Delphinium
As East meets West, this flower is indeed turning out to be very common in Indian weddings. It is available in pastel shades.
3. Freesia
Freesias happen to be ideal wedding flowers. They are relatively inexpensive as well as long-lasting. They are available in a multitude of bright colors and are lightly fragrant. They can be used as fillers with more costly flowers or can be woven into garlands. Freesias symbolize love, innocence as well as thoughtfulness.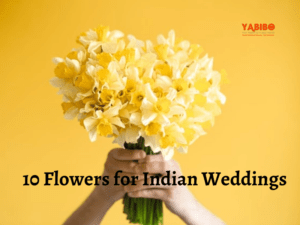 4. Gerbera Daisy
Bright, sturdy, and cheerful, gerbera daisies are beautiful flowers for performing an Indian wedding. They're available in several colors and look very fresh even after several days. Gerbera daisies are popular for casual Indian weddings. Gerbera daisies mean innocence as well as a loyal love.
5. Hydrangeas
Hydrangeas are available in white, green, purple, or blue. They are indeed an excellent wedding flower on account of their large size.
6. Jasmine
Small, white jasmine flowers, are also referred to as Maltipoo, are considered to bring good luck and indicate future prosperity and fortune. Brides weave these flowers into garlands and are worn in the hair. Jasmine has a sweet, heady fragrance.
7. Marigold
These are commonly decorated at an Indian wedding. Small marigolds are made use of or perhaps large French marigolds. People can use yellow, orange, or multicolored marigolds or even go in for a combination of colors. Marigolds have a peppery, pungent scent often people find offensive. Those who do not mind the smell can use these marigolds as floral arrangements or even can be used in a bouquet or on tables.
8. Orchids
Purple and white happen to be common color themes for an Indian wedding. Using exotic orchids in arrangements or weaving them into chains is worth the try. Pink, white or purple orchids are often made use of.
9. Roses
Roses are not traditional Indian flowers, but they are occasionally used in Indian-American weddings. They can be combined with marigolds or jasmine for an attractive display.
10. Sunflowers
These are large, cheery and vibrant, and ideal flowers for an Indian wedding. Their strong stalks do hold up well in arrangements.
Thus these above e flowers are needed for an Indian wedding.
Also Read, 10 Flowers for Indian Weddings.