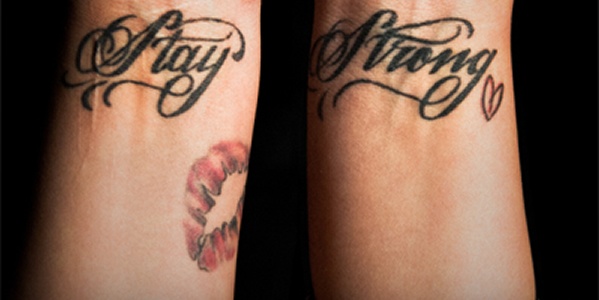 Demi Lovato Tattoo has come from Demi Lovato is a favorite American actress and pop singer and is also well known for her tattoos. This lady has the knack of adding new tattoos on different parts of the body. Here are some of the prominent ones:
Demi Lovato Body Tattoo
1. You make me beautiful tattoo –
Inked on the right ribcage, this tattoo reminds Demi that she is beautiful. The engraved line is from the song 'Beautiful' by Bethany Dillon and it has a great impact on her life. Written in black and white, the tattoo has great texture.

2. Stay Strong Tattoo –
This tattoo quote can be found on the reverse side of the wrist. When Demi Lovato was under physical and emotional stress, she got it engraved. The tattoo is also dedicated to her fans and well-wishers who supported her all throughout bad times. The tattoo has emotional sentiments along with providing inspiration when you are low.
Demi Lovato Tattoo
3. Faith tattoo –
Engraved on her right forearm just below the elbow, the faith tattoo stands for the tough journey that Demi has undergone in her life, which has given faith in herself. Her strong Christian beliefs are also displayed via the tattoo, which is created in black ink. The tattoo is small but is clearly visible.
4. A string of Birds tattoo –
Take a look at Demi Lovato's right arm and you can see the String of Birds tattoo there. The design carved in dark green and black ink displays a flock of 12 birds. It is the most prominent tattoo that she has and is a long one reaching her 'Faith' tattoo. The tattoo design has excellent texture as well.
5. Now I'm a Warrior Tattoo –
Inked on the backside of left arm shoulder, Demi Lovato's tattoo says 'Now I'm a Warrior'. The lyrics of her song 'Warrior' inspired her for the tattoo and it signifies a negative feeling turning positive. Inspirational as well as pretty, the tattoo is written in simple style.
6. Small feather tattoo –
The small feather tattoo behind Demi Lovato's ears is really cute. Created from green ink, the tattoo has its outline with black ink. This tattoo has Christian as well as spiritual significance. Apart from looking pretty, it has a classy appeal as well.
7. Peace Tattoo –
If you take a look at Demi's left hand minutely, you can see the 'Peace' tattoo on the middle finger. This tattoo was engraved when she was suffering from treatment for cutting and bulimia. The lady has seen lots of upheavals in her life and is currently at peace. The size of the tattoo is small.
8. Let Go & Let God Tattoo –
The tattoo design 'Let Go and Let God' can be found near the toes on top of the feet. 'Let God' is inked on her left foot, while 'Let Go &' can be seen on the right foot. The tattoo symbolizes her strength and shows that she has the support of her family and friends and close people. Engraved in black ink, the tattoo looks pretty.
There are more tattoos that Demi Lovato sports and each one has a special meaning and significance.