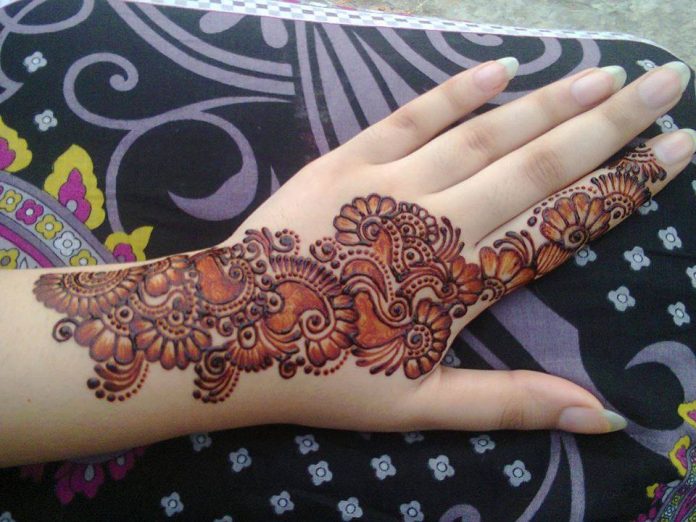 Mehandi Stickers
Since ages, ladies have loved to decorate their hands and feet with intricate designs. Be it any festival, their own wedding, a friend's wedding or any other party, Mehandi designs has always been remain in fashion. It is no doubt the best temporary tattoo art, both creative and decorative at a single time. The only problem with Mehandi designs is that it takes a significant time to from getting etched to imparting its true color. To ease our way, there are now available Mehandi stickers that you can use to cover your desired body part with temporary tattoos. They are available in every possible design you can think of and varied sizes. You can change them every week if you wish to.
You can't deny the fact that the peacock is the most beautiful bird having a long beautiful tail adorned with a myriad of vibrant colors.  A Mehandi sticker depicting peacock tail emulates the shape, color, and designs in a classic manner and adds beauty and class to your style. These stickers can be used to get a Mehandi tattoo on any part of the body like arms, neck, hands or legs.
The mango design is an evergreen design without which no Mehandi seems to be complete. It comes in varied designs and patterns that are carved intricately and delicately. The best thing is, it will never go out of trend. There are numerous designs carved within the mango shape that make this sticker more attractive. If you want a grand look, you can use more than one sticker with different designs. It looks trendy and appealing on the nape of the neck and even your arms.
Mehandi or henna designs depicted in circular shapes are new in trend. These look exquisite and elegant, adding a touch of class to the overall Mehandi design. The circular stickers are available in varied shapes marked with intricate designs and patterns drawn within the circle. Some are also adorned with glitters and beads to accentuate overall beauty.  You can use it on your arms, legs or even at the navel to get a trendy look. Add some creativity to develop an intricate piece of art using these stickers.
Flowers not only win hearts when blossoms in nature, but also add charm to any Mehandi design when carved intricately. With the help of Mehandi stickers, you can create on your hands and feet beautiful floral designs in no time. Just apply these stickers where you want to flaunt floral motifs and see how amazing these designs look on your skin.
Taking a break from intricate designs, you can switch to checkered patterns to give your Mehandi a look that set it apart from others. You can also use it with other Mehandi stickers to fill in any gaps.
It is one of the most popular designs incorporated into any Mehandi designs. It is in trend for ages and will continue to remain so. This type of design is generally combined with other designs like human figures or floral motifs to add variety to the overall design. These Mehandi stickers popularly used on some special occasions like a wedding or on festivals like karwachauth.
For those of you who find Mehandi a tedious affair, these stickers will miraculously give you the same effect as traditionalMehandii. Stores stock various designs that will leave you lost for choice. Take your time in finding a sticker that will suit the need of the occasion and your taste. They are inexpensive, easy to use and will make you look stunning!