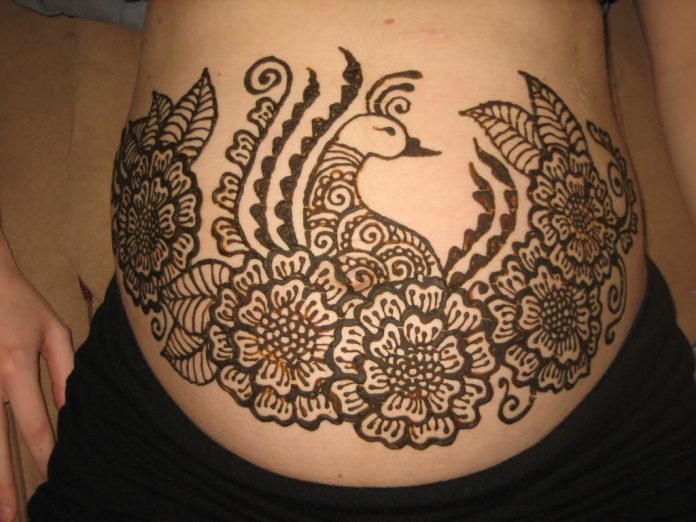 Application of mehandi on the skin has been in tradition since time immemorial. Earlier this body art was limited to Asian and African regions, but nowadays it has become a trend among the women of different parts of the world too. Applying mehandi is painless, easy and does not leave any permanent mark on the body. Getting mehandi tattoos on hands and feet is common since ages. The latest trend is to get it done over the bellies. Though in some culture applying Mehandi on the bellies of pregnant ladies is a custom, but you can adorn it as a part of the latest fashion trend. Look into Beautiful Belly Henna Designs
Here are listed a few beautiful and best designs you can try for the next gala or just to stay ahead in the race of fashion.
This is a very simple design you can opt if you do not want to go for a complex one. This elegant looking henna design around the belly button is perfect if you want to show off your flat belly while adding some beauty to it.
Embracing the essence of traditional mehndi designs, this belly button art is too adorable to be adorned. Combining auspicious 'Ohm' and a 'Kalasha' with an intricate design of leafy pattern, this design looks both attractive and elegant.
This is yet another simple yet classic design you get over your belly. It is inscribed with a few geometric shapes adorned with waves and swirls to accentuate the beauty of the overall design. Get bold without getting complex with this eye-catching tattoo.
Celebrate the joy of bringing in this a new life by flaunting your baby bump with this intricate design. Though looking simple, this mehndi tattoo is an elegant one and covers your entire belly. So get it etched now and showcase your baby bump with some style.
To add some boldness and style to your persona for the coming party, get yourself adorned with this mehndi tattoo at your belly button. Looking very pretty, this design it will look perfect on your flat tummy, adding oodles of style to your persona.
Adding to the list of belly henna tattoo, here comes another piece of magnificent design. This appealing design has got its beauty from glitters and bindi that have been worked on it delicately.  Accentuated with the myriad of colors this mehndi tattoo will look appealing when combined with a traditional outfit.
The heart is considered as a symbol of love and hence included in almost all types of design to define the purity of love. Here is also presented an adorable design for your belly in which a big size heart is beautifully adorned with flowers and leaves. Though looking quite simple, the beauty of this mehndi design is beyond words.
This belly Mehandi design depicts a crescent-shaped moon.  It is a concoction of wild patterns with leaves and vines embracing an intricate flower artwork. This mesmerizing heavy Mehandi design will look so adorable on your baby bump.
This beautiful belly henna design imitates the beauty of the lotus flower underwater. This alluring design is adorned with beautiful flowers, a fish floating over the flower and swirls, giving it a true sense of natural beauty.
Another design for ladies who feel proud of their bodies and never feel hesitant showing their flat tummy to the world. It has embraced the beauty and pleasure of vibrant colors which give it a mesmerizing look. Wear it with saree or lehenga and let the world know how beautiful you are.
Whether you want to flaunt your flat tummy or show off your baby bump, these henna designs will help you do just that. Add some ingenuity and experiment with colors for a more personalized look.