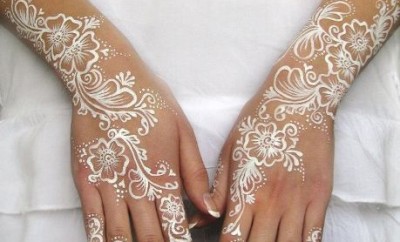 Whenever a discussion about henna goes on, an image of dark red colored tattoos on the palms and feet pops into the mind. Since ages henna tattoos, leaving red bloom over the skin are in the tradition. But as the fashion keeps on changing white henna tattoo is the latest on the fashion chart. So if you want to breathe in the air of latest fashion trends, try these absolute beautiful and intricate white henna designs to make your bid day more special.
Flower motifs etched with white henna. Isn't it something which looks exquisite, elegant and appealing? Covering the shoulder completely this design will look stunning when you flaunt it wearing an off shoulder evening dress or tee.
If you want to add some art to the back of your hand, then this design will be a perfect pick for you. Adorned with intricate patterns, flowery design and peacock motifs, this will look beautiful and eye-catching. To accentuate the beauty of this elegant design a tinge of blue color is also added to the white base.
If you want to set a new trend then why not start with decorating your eyes with henna. This design is so unique that you wear it with heavy eye make-up. The look of this white henna design is accentuated by using blue eyeliner and pink eye-shadow in a very creative manner.  If you are a fashionista, you will definitely want to give it a try for your next party look.
Decorate your feet with this classy yet stylish design. Showcasing a unique pattern, this design is beautifully adorned with a golden color to add more class to it.  Walk bare feet confidently on the ramp displaying your unique taste of fashion.
This is another example of a beautiful art carved with white henna. This design drawn on the forearm with random patterns clubbed with floral motifs and swirls looks simply beautiful. You can accentuate the beauty of this elegant creation by pairing it with a white evening gown or sleeveless traditional dress.
White henna makes legs look more appealing. You can adorn your legs with varied designs among which one is presented here. This design has been created combining varied patterns with swirls and whooshes. Covering your whole leg, this design offers class and elegance to your legs, making them look sexy at the same time. Team it with knee-length white dress with a pair of high heels
If you are a type of girl who wants style with class and simplicity then this design is just for you.  Combining a few floral motifs with dots, leaves, and swirls, this design will surely heart of anyone who admires beauty with simplicity. To add some drama to this, a few colorful stones are also used.
Getting back adorned with beautiful tattoos is highly in fashion these days and when it comes to white henna the trend goes high.  Having this intricate design etched on your back, you will not keep yourself restrained from flaunting your bareback.  It is so elegant and beautiful to catch any eye instantly.
The latest in white henna design is the necklace pattern. If you do not want to adorn a real neck piece and still want your neck to look beautiful, then try some stunning white henna designs on the neck. Clubbing swirls with dots and lines along with glitters and stones, this white henna tattoo will surely add oodles of style to your persona.
These white henna designs look elegant, pretty and impart poise to the way you look. Most parlors today are willing to experiment with designs and get the look right! Try a white henna design for a party or wedding, and you are bound to shower with compliments.