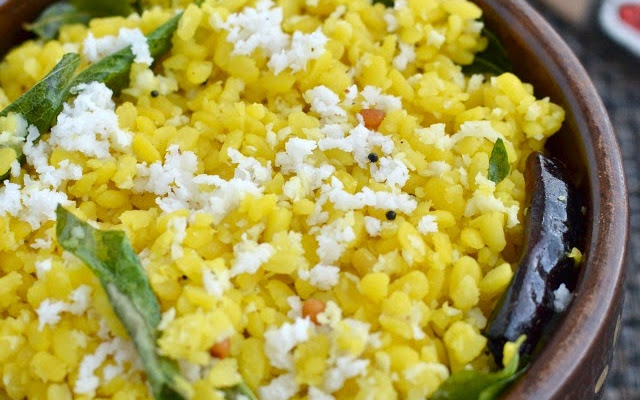 Moongdal Sundal
Today, I prepared Moongdal Sundal, which is very healthy & easy to prepare snack.
Unlike other varieties of lentils , moong dal gets cooked very easily, so no need to soak for long hours.
And Moongdal Sundalmakes an excellent snack for the kids as well as mid day snack for those who are on diet. It is a good source of high levels of protein and contain only very less fat calories.
Try this very delicious &.yummy moongdal sundal recipe, that tickles our taste buds and leave us craving for more.
Ingredients to prepare Moongdal Sundal:
Yellow Moong Dal (Pesarapappu) : ½ cup
Turmeric pwd : a pinch
Oil : 1 tsp
Mustard : ¼ tsp
Cumin : ¼ tsp
Split urad dal : ½ tsp
Green chilly : 1
Grated ginger : ½ tsp
Coconut shreds : 2 tbsp
Lemon juice : ½ tsp
Fresh curry & coriander leaves
Salt to taste
Methods to prepare Moongdal Sundal:
Toss moong dal in the fry pan in low heat, till it changes to golden brown in color.Add 1 ½ cup of water, turmeric powder, salt and cook it.
Keep the flame in medium and stir it once in a while.
Take care moong dal does not get stick to the bottom of pan.
If required add some more hot water to it and cook till moong dal is cooked soft.
At same time, it is important not to overcook , as moong tends to get soggy.
In a kadai, add oil and heat it.
Season with the mustard, cumin , split urad dal and curry leaves.
Add chopped green chilly and ginger.
Carefully mix all the ingredients and flavorings with a ladle. Too much handling might break the moong grains.
Turn off the flame.
Add fine coconut shreds and lemon juice.
Combine gently.
Garnish with the freshly chopped coriander leaves. Enjoy the yummy & healthy taste of MoongDal Sundal.
Photo credit: kathrynlinge / Foter / CC BY-NC-SA