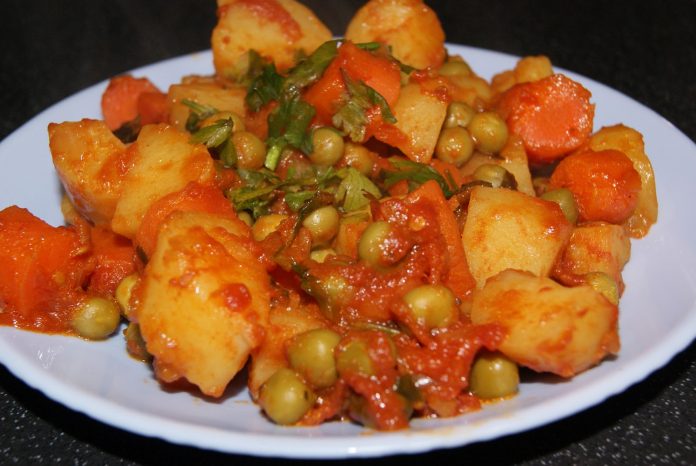 This Delicious Aaloo Mutter Fry Recipe tastes excellent and yummy. It serves the best with variety of rice such as lemon rice, coconut rice, carrot rice, vegetable rice, mango rice, sambar rice, puliyodarai rice, etc., it has the mild spicy taste and flavored taste of the curry masala. Hope you will enjoy this recipe…
Ingredients to prepare Delicious Aaloo Mutter Fry Recipe
Aloo : 200 g
Mutter : 1 cup
Oil : 4 tbsp
Fennel seeds : ½ tsp
Onion : 2
Tomato : 1 (big)
Ginger garlic paste : 1 tbsp
Turmeric powder : ¼ tsp
Red chilly powder : 2 tbsp
Coriander powder :1 tbsp
Lemon juice : 1 tbsp
Salt to taste
Fresh coriander leaves
Method to prepare Delicious Aaloo Mutter Fry Recipe:
Boil or pressure cook the Aaloo and Mutter.
Take a pan and Heat oil, add fennel seeds, allow to sputter.
Add the chopped onion pieces, sauté to the light brown.
Add ginger garlic paste followed by the tomato pieces. Fry well in the low flame.
Add turmeric pwd, red chilly pwd, coriander pwd, salt and combine well.
Pour ½ tb water and allow to cook covered.
Once you get the required gravy thickness, add boiled aloo and mutter.
Mix them by pouring oil to the sides.
Roast it in the low heat for about 5 mins, until it turns the golden brown.
Remove from the flame, add 1 tbsp fresh lemon juice and mix well.
Serve hot with coriander leaves garnishing. And enjoy the Delicious and tasty Aaloo Mutter Fry Recipe
Also read :   Restaurant style aloo gobi recipe
Photo credit: rovingI / Foter / CC BY