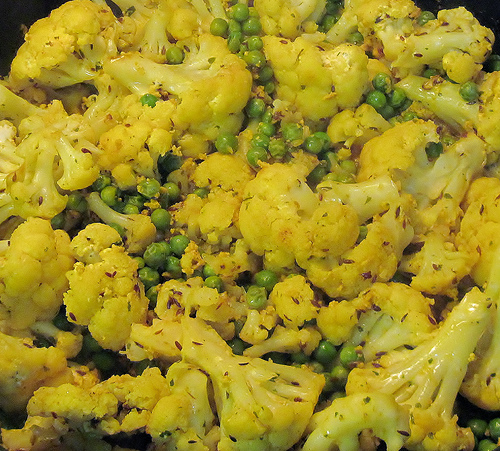 Gobi matar recipe with step by step instructions given below. Gobi or cauliflower is much loved veggie in punjabi household. so it is not surprising that when make cauliflower dish at least once per week.
INGREDIENTS FOR PREPARING HEALTHY GOBI MATAR RECIPE
Measuring cup used, 1 cup = 250 ml
Cauliflower or phool gobi : 450 to 500 grams or 1 medium cauliflower
Peas or matar : ¾ to 1 cup fresh/frozen
Onions : 120 grams or 2 medium sized, about 1 cup finely chopped
Tomato : 1 large or 3 small sized, about ¾ cup finely chopped
Green chillies : 2 to 3 finely chopped green chilies
Ginger or adrak : 1 inch, about 1 to 1.25 tsp finely chopped or minced or grated ginger
Garlic or lahsun : 6 to 7 medium sized or 4 to 5 large garlic, finely chopped
Caraway seeds or shah jeera : ½ tsp
Cinnamon or dalchini: 1 inch
Green cardamoms or hari elaichi : 2
Star anise or chakra phool : ½
Black pepper or sabut kali mirch : 4 to 5
Indian bay leaf or tej patta: 1 small to medium
Turmeric powder or haldi : ¼ tsp
Kashmiri red chili powder or lal mirch powder : ¼ tsp (optional)
Coriander powder or dhania powder : 1 tsp
Garam masala powder : ¼ tsp
Cloves or lavang : 2 to 3
Oil : 2 to 3 tbsp
Salt as per taste
Some chopped mint and coriander leaves for garnish
INSTRUCTIONS FOR PREPARING HEALTHY GOBI MATAR RECIPE
Chop or break the cauliflower or gobi into small pieces.
Clean the cauliflower by dipping pieces into the hot water to kill small insects. Drain and keep aside. If no insects just add the cauliflower directly.
Wash peas and then lighten in hot salted water for 15 to 20 mins. First cook the peas in water till they are almost cooked. then drain and keep aside.
Heat oil and crackle the whole spices like cinnamon, cloves, caraway seeds, star anise, black pepper and indian bay leaf or tejpatta.
Add the finely chopped onions, green chilies, ginger and garlic. Saute till the onions become light brown.
Then add the finely chopped tomatoes.
Then add turmeric powder, red chili powder and coriander powder. Stir and saute till tomatoes soften and you see oil releasing from the sides.
Add the blanched gobi or cauliflower pieces.
Stir well so that onion, tomato and spices mix uniformly with cauliflower pieces.
Cover with the rimmed lid in which water is added. cooking with this technique does not burn cauliflower.
Also you do not need to add any water in the cauliflower. A lot of steam is formed inside the pan which helps in cooking the cauliflower.
Do check the veggie after a some minutes and stir. if the water dries up in the lid, then add more water.
When the gobi is almost cooked, add the peas or matar and garam masala powder.
Stir and cover with the rimmed lid with water in it. cook for a further 7 to 10 minutes on a low flame, till the cauliflower and peas have become tender and cooked well. once done, if there is any moisture in pan, then cook without the lid and let moisture evaporate.
Garnish gobi matar with the chopped mint or coriander leaves. Serve gobi matar hot or warm with chapatis or phulkas.
NOTES
If adding tender or frozen peas which cook faster, then add them when you add the cauliflower pieces.
Photo credit: SaucyGlo / Foter / CC BY