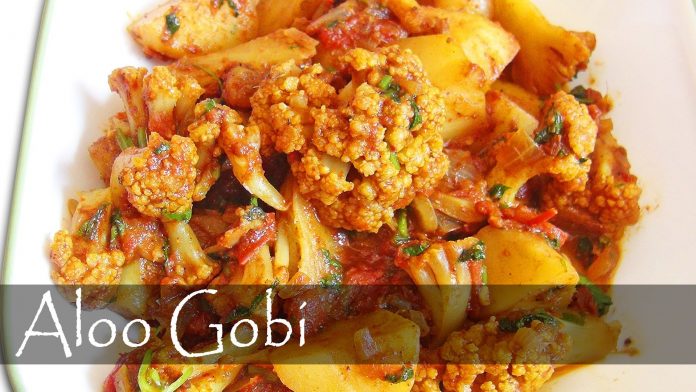 Restaurant style aloo gobi recipe
Aloo gobi curry recipe with step by step instructions given below; this is a restaurant style aloo gobi recipe.
INGREDIENTS FOR ALOO GOBI RECIPE
Measuring cup used, 1 cup = 250 ml
Gobi/cauliflower : 1 medium sized, about 2.5 to 3 cups chopped
Aloo/potatoes : 2 medium sized , about 2 to 2.5 cups diced potatoes
Onion : 1 medium to large, finely chopped
Red tomatoes : 2 large, about 2 to 2.5 cups finely chopped tomatoes
Cashews : 15 whole, soaked in the hot water for about 20-30 mins
Cream : 2 tbsp
1 inch ginger + 3 to 4 garlic cloves crushed to a paste in mortar-pestle, about 1 to 1.25 tsp ginger garlic paste
kashmiri red chili powder : ½ tsp
turmeric powder or haldi: ¼ tsp
coriander powder or dhania powder : ¾ tsp
garam masala or tandoori masala powder : ¼ to ½ tsp
crushed kasuri methi or dry fenugreek leaves : ½ tsp
1 tbsp butter + 1 tbsp oil
2 cups water or veg stock
salt as per taste
whole spices or garam masala
cinnamon or dal chini : 1 inch
bay leaf or tej patta : 1
green cardamoms : 2 to 3
cloves or lavang : 2 to 3
black cardamom or bad elachi : 1
1 single strand of mace or javitri
INSTRUCTIONS FOR PREPARING ALOO GOBI RECIPE
First soak cashews in warm water for about 30 minutes. Then drain and blend them to the smooth paste with about 2 tbsp water in the grinder or blender.
Wash and peel the potatoes and then chop them. Chop the onions and tomatoes finely.
Chop the gobi or cauliflower into medium sized pieces. Wash the pieces well in water.
Heat sufficient water with the salt for pieces to be immersed in, on stove top or in microwave.
Add the washed pieces and keep them immersed in the hot water for 15 to 20 mins. This is to get rid of an insects or worms that may be in a cauliflower.
Then drain the gobi or cauliflower and wash once again with fresh water.
Heat the butter and oil in the pan and add all the whole spices or whole garam masala listed above. saute and stir till the spices become aromatic.
Then add chopped onions and saute till they become golden brown.
Add the ginger & garlic paste. Stir and saute till the raw aroma of garlic & ginger goes away.
Add the chopped tomatoes and saute till the tomatoes become soft and pulpy. This takes about 5 to 7 minutes on a low to medium flame.
Add the cashew paste and all the spice powders one by one such as turmeric powder, red chilli powder and coriander powder.
Stir and saute till you see oil coming from the sides of the masala paste.
The masala paste will start getting together and you will clearly see the fat leaving the sides. This process takes about 8-10 minutes on a low to medium flame.
Keep stirring frequently so that the masala does not stick to the pan.
Add the cauliflower and potatoes. Stir well. Then pour water and season with salt.
Cover and cook the curry till the veggies are done but not falling apart. Stir for a few times when the veggies are simmering.
If the gravy or sauce thickens too much then just add the few tbsps of water and simmer for the couple of minutes.
Lastly add the garam masala powder, crushed kasuri methi and cream.
Stir and simmer aloo gobi curry for ½ a minute without the lid. Garnish the aloo gobi with chopped coriander leaves if you prefer.
Serve the restaurant style aloo gobi curry hot dotted with the cream or butter and sprinkled with a pinch of garam masala, go together with rotis, naan or phulkas or steamed basmati or jeera rice.
Addition of kasuri methi (dry fenugreek leaves) gives a nice final touch to the recipe and you can consider making this aloo gobi recipe for special or festive occasions, guests or parties. overall this recipe is delicious and is a keeper.