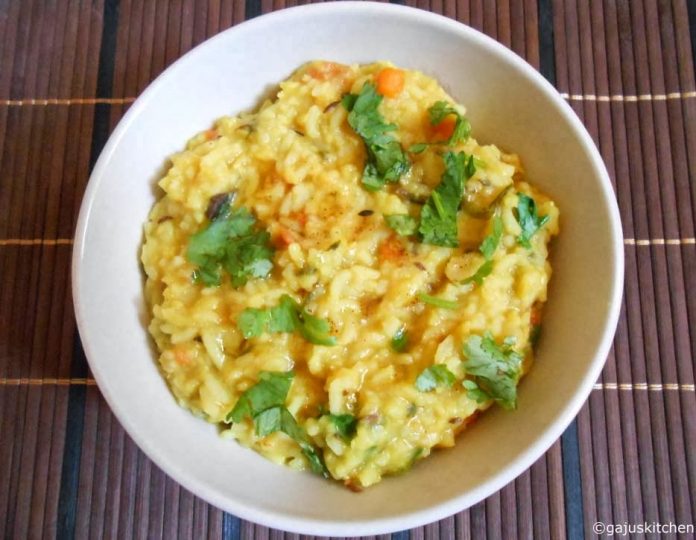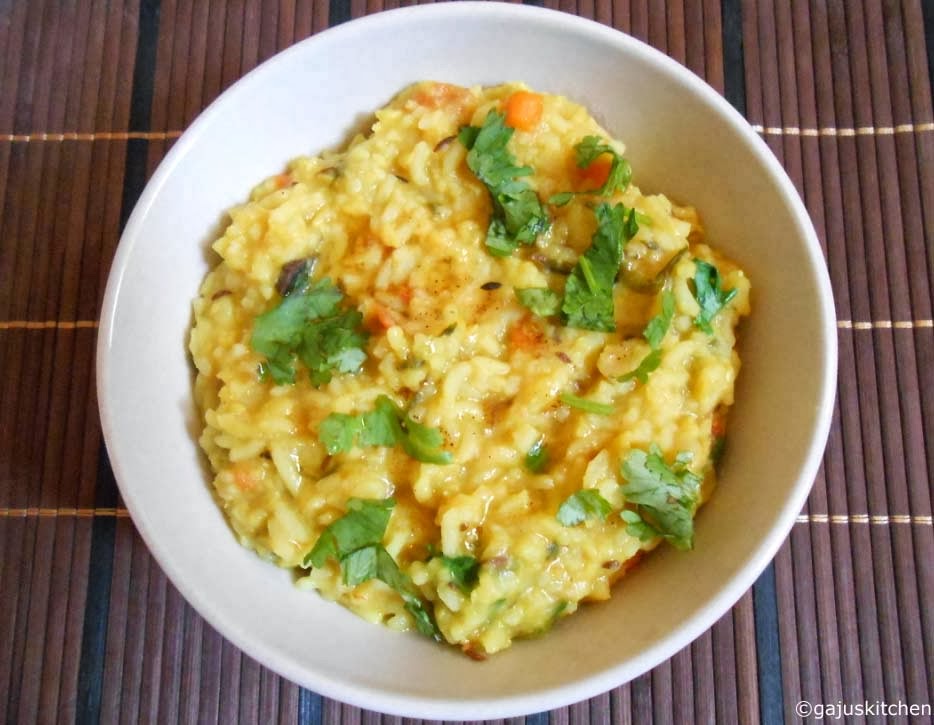 Moong dal khichdi recipe
A simple and very easy moong dal khichdi recipe. This moong dal khichdi is prepared as a naivedyam for god and is made using the normal ingredients and spices. This recipe can be made without onion & garlic khichdi recipe.
INGREDIENTS FOR PREPARING MOONG DAL KHICHDI
Measuring cup used, 1 cup = 250 ml
Basmati broken or whole rice : ½ cup
Moong dal or spilt and dehusked green gram
ghee : 1.5 tbsp or 2 tbsp oil
turmeric powder or haldi : ¼ tsp
cumin seeds or jeera : ¾ to 1 tsp
rock salt or regular salt as required
INSTRUCTIONS FOR PREPARING MOONG DAL KHICHDI
Wash both the rice and dal together for a two times in water.
Heat the ghee or oil in the pressure cooker.
Crackle the cumin first. Add the turmeric powder and stir.
Add the rice and moong dal. Stir and saute for a minute.
Add 4 to 4.5 cups water. Season with salt.
Stir and then pressure cook the khichdi for 5 to 6 whistles till both the rice and moong dal have reached a mashable consistency like a porridge.
When the pressure settles down, open the lid and check moong dal khichdi.
If it is too thick, then add some water and stir well.
Keep on sim or low flame to simmer khichdi till you get the right reliability.
The consistency can be adjusted as per your choice by adding less or more water. Some people prefer thick and some thin consistency.
Serve moong dal khichdi with the plain bowl of yogurt or raita.
When serving khichdi you can add a 1 or 2 tsp of ghee in the serving bowls or plates.
NOTES
This recipe of khichdi has been made in pressure cooker. If making in a pot, then soak the mung dal and rice for about 45 mins to 1 hour. Continued with the tempering of cumin seeds in the pot. then add dal and rice. Add about 5 to 6 cups water and cover and cook the khichdi till the rice and moong dal are cooked till really soft and of a porridge consistency. Add more water if required if khichdi becomes lumpy or too thick. keep on stirring at the regular intervals during the entire cooking process.