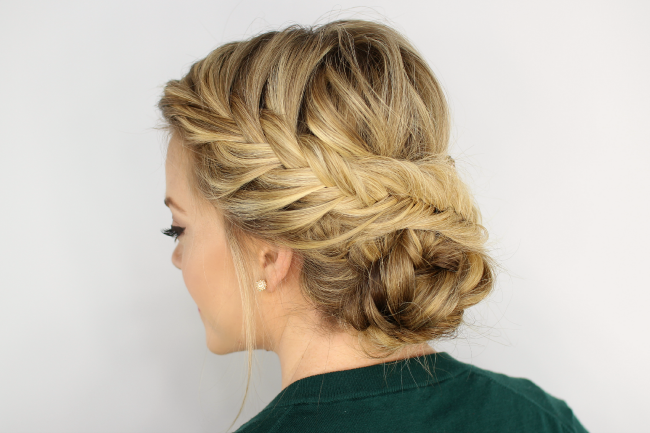 So you are ready for your B-day! The time has finally come to wrap yourself in the best dress, makeup, and hairstyle. Low Updo hair bun looks astonishing on blushing brides and hence you have every right to explore the best ones for the special day you have been waiting so long.  Whether you want to add a classic touch to your bridal look or go for an unconventional one, here you will get a combination of some of the ravishing wedding hairstyles you would definitely like to pick up for your wedding.
Hairstyle 1
In this, the golden locks of the bride are twisted and rolled up to turn them into an elegant updo. It has given a finishing touch by affixing a vintage style silver hairpin to one side of the rolled-up locks.
Hairstyle 2
To turn golden tresses into this Popular winter hairstyle, the hair stylist has wrapped the locks of the bride into a low sung chignon which is looking so elegant and pretty. This low updo is giving the bride a romantic and understated look for the evening.
Hairstyle 3
If you are planning to slip into a 1950-inspired tea-length gown and doing your pouts with a pinky-red lipstick, then this hairstyle is what you will like to get to add a glamorous yet subtle touch to your overall beauty. This pinup look with a twist of beehive hybrid will add oodles of beauty to your bridal look, making you the best person of the evening.
Hairstyle 4
You can spice up your bridal look with this super classic yet a formal updo. Pull out your smooth strands and tie them into a medium-sized ponytail. Now curl up the large segments of your hair and pin them while leaving loose. To give a rustic touch to this hair updo add a pretty feather to your locks as done by this bride.
Hairstyle 5
The hairstylist has shown its awesomeness in the form of this captivating updo where the long golden tresses are gathered together and piled up high. To give this bride a stunning and sensational look long tendrils are allowed to fall loosely and softly down the nape of the neck.
Hairstyle 6
Isn't this lady looking all gorgeous in her bridal updo?  The curled golden locks are parted at one side which is then twisted and gathered together to wrap loosely to turn them into an intricate bridal chignon.
Hairstyle 7
A side braid combined with an ornate bridal bun is what giving this hair updo a captivating look. To give the finishing touch the twisted locks are packed together and pinned up into the bun. This is an ultimate updo you can adorn to steal all limelight of the show.
Hairstyle 8
This hair updo is perfect for your big day. It combines ultimate grace with the right amount of messiness, reflecting a true side of a pure-hearted woman. This playful hair updo is a combination of braid wraps with blooming flowers. Sleek and styled from the front, this jaw-dropping style is a beautiful compliment for a beautiful bride.
This up-dos will take some time to master. So, feel free to practice them in front of the mirror a couple of times before you try it for on your big day. If you intend on having someone help you with your hair, be sure to have them try it on you a few times before the final run on your wedding day. They are trendy, uber cool and will lend you a girl next door look almost instantly.