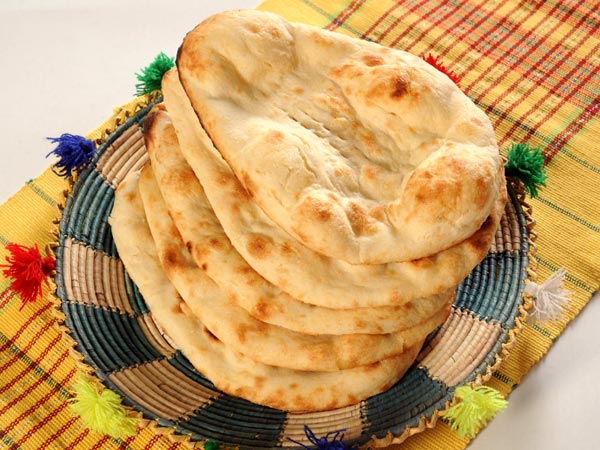 How to make naan with yeast. In this article you will come to know about preparation of making naan with using yeast.
INGREDIENTS TO PREPARE NAAN WITH YEAST
Measuring cup used, 1 cup = 250 ml
maida/all purpose flour : 3 to 3.25 cups
water : 1 cup or as required
oil or ghee or butter : 2.5 to 3 tbsp
dry active yeast : 1 tsp
sugar : 1 tsp
salt : ¾ tsp or as required
Butter for brushing the naans, as required
INSTRUCTIONS TO PREPARE NAAN WITH YEAST

First dissolve the sugar in 1 cup of water. Warm this solution.
Then dissolve the yeast in that sugar sontent and let the yeast bubble up. This takes time about 10 to 12 mins.
When the yeast solution has bubbled up well then add this frothy solution in a mixing bowl.
Add the maida or all purpose flour, salt, oil and keep on mixing with hands.
Add oil and then massage to a knead, soft, springy and elastic dough.
If the dough looks dry then add few tbsp of water and knead.
If the dough has become too sticky, add a few tbsp of flour and knead,
The dough should be well kneaded and soft. If you press dough with your finger it should spring back easily.
Place the dough in a bowl and cover with cotton napkin or lid and keep for 1:30 to 2 hours at room temperature.
Now make medium sized balls from the dough. Roll them well in your palms. Place the balls in a tray or plate.
Cover them with cotton napkin or lid and again allow to stand for 30 mins.
The dough balls will double up.
Before you start rolling the naans, heat your oven to the max temperature at least 20-25 mins before. My oven has the maximum at 250 degrees C.
Please note that if you keep above 250 degrees C than the baking time will reduce.
Once the oven is preheated well, then start rolling the naan evenly.
Keep a medium thickness, meaning rolls the naans neither thick nor thin.
Place the rolled naan on a greased pan or tray and keep in the oven.
Bake for 7-10 minutes till brown spots seen on the top and the naan puffs up well.
With the help of oven mitts remove the tray from the oven. Remove the naans also and spread some butter on them.
Serve naan hot with a north indian or mughlai vegetable curry or dal/lentil dish.
NOTE:
To make naan in microwave convection mode – preheat the oven at 200 degrees C at least 20 mins before you start to make the naan. Place the rolled naan in greased baking tray. Bake at 200 degree for 4 to 8 minutes or more or less till the naan puffs well and become golden from top.