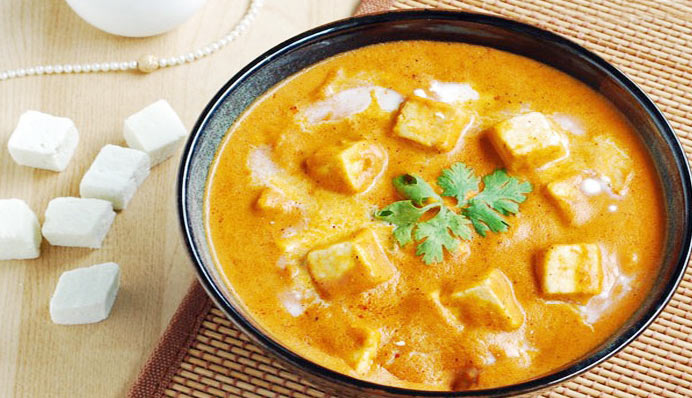 Punjabi paneer chole recipe
INGREDIENTS
Measuring cup used, 1 cup = 250 ml
For cooking chickpeas:
chole or dried white chickpeas : 1 cup or 200 grams
Sufficient water for soaking chole
water for pressure cooking chole : 3 cups
bay leaf or tej patta : 2 small
cinnamon or dalchini : 2 of one inch each
black cardamom or badi elachi : 2
ginger paste : 1 tsp
salt as per taste
dried amla : 3 to 4 or 1 black tea bag (optional)
For preparing chole gravy:
onion : 1 medium chopped or ½ cup chopped onion
tomatoes : 2 medium to large chopped or ¾ cup chopped tomatoes
paneer/cottage cheese : 100 to 150 grams
green chillies : 2 to 3 slit
coriander powder or dhania powder : 1 tsp
cumin powder or jeera powder : 1 tsp
red chilli powder or lal mirch powder : 1 tsp
amchur powder or dry mango powder : 1 tsp
kasuri methi or dry fenugreek leaves : ½ tsp
garam masala : ½ tsp
turmeric powder or haldi : ½ tsp
water : 1 cup or add as required
salt as required
For garnish:
chopped coriander or dhania patta : 1 to 2 tbsp
ginger julienne: ½ inch
INSTRUCTIONS
Soak 1 cup dried white chickpeas or kabuli chana or safed chole in sufficient water overnight for 7 to 8 hours. Drain and rinse the soaked chickpeas in the water and keep aside.
Take the chickpeas along with 1 tsp salt, 2 black cardamoms, 2 inch cinnamon, 3 dried amla pieces also you can substitute one black tea bag in place of amla, 2 small tej patta and 1 tsp ginger paste in the pressure cooker. Add 3 cups water. stir.
Cover tightly and pressure cook the chickpeas for 10 to 12 whistles.
The chole or chickpeas should be cooked well. There should not be any bite in the chole. They should have a soft melt in the mouth texture. Remove the softened amla pieces or tea bag and keep the cooked chickpeas along with the stock aside.
In another pan or kadai, heat 2 tbsp oil and add ½ cup chopped onion.
Stir and saute on a low to medium flame, till the onions are translucent or light golden.
Then add 1 tsp ginger & garlic paste. Stir and saute for a few seconds till the raw aroma of ginger& garlic goes away.
Add ¾ cup chopped tomatoes.
Stir the tomatoes. saute the tomatoes, till they soften.
Add the spice powders 1 tsp coriander powder, 1 tsp cumin powder, 1 tsp red chilli powder,1/2 tsp garam masala & ½ tsp turmeric powder.
Stir and saute for a minute.
Add the cooked chole along with its spices. Stir that mixture well.
Then add 2 or 3 slit green chilies. Stir it.
Add 1 cup of stock or stock+water.
Season with salt as required. Do keep in mind, that 1 tsp of salt was added to the stock.
On a medium flame, bring the gravy to the simmer.
The gravy should thicken slightly. Mash a few chickpeas with the back of the spoon. This helps in thickening the gravy.
Now add paneer cubes about 125 to 150 grams of paneer, ½ tsp kasuri methi & 1 tsp amchur powder. Dry mango powder or amchur can be added according to one's taste.
Stir and simmer the paneer for about 2 minutes on a low flame.
Switch off the flame and add 1 or 2 tbsp chopped coriander leaves and some ginger julienne. you can also garnish with the coriander leaves and ginger julienne instead of adding them.
Stir finally and serve the paneer chole with rotis, pooris, parathas or naan. Also serve some onion slices and lemon wedges as a side accompaniment.
NOTES
substitutions:
1) Dried amla – 1 tea bag
2) Dry mango powder – 1 tsp dry pomegranate seeds powder or 1 tsp lime juice, you can also add as required and add lime juice towards the end.