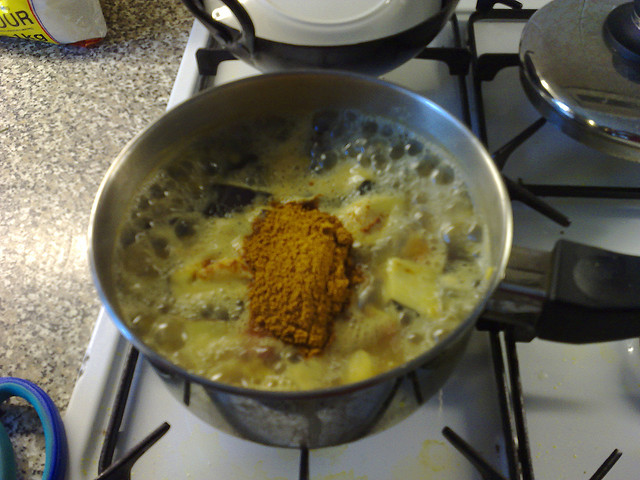 Sambar is a popular dish which is prepared in almost every Indian home. The taste of this sambar will eventually take you to heaven. The main ingredient which is used in this yummy recipe is tomato. The tangy feeling of this fruit will make your tongue swirl with gladness.
The addition of Indian spices mixed to this sambar recipe will blow your mind. All Indians love to make it a tad spicy as it goes well with plain white rice. If you like to add vegetables to this sambar, you are most welcome. To prepare this yummy spicy tomato sambar, here is the recipe for you to take a look at Delicious Tomato Sambar Recipe.
Ingrediants to prepare Delicious Tomato Sambar Recipe
Onion – 1 (chopped)
Tomato – 3 (puree)
Chilli powder – 1 tsp
Salt – to taste
Oil – 1tbsp
Channa dal – 1/4 tsp
Urad Dal – 1/4 tsp
Mustard seeds – 1 tsp
Curry leaves – 4
Coriander leaves – 1 spring
Paste:
Cloves – 3
Cinnamon – 1 small stick
Saunf – 1/4 tsp
Poppy seeds – 1/2 tsp
Coriander seeds – little less than 1 tsp
Garlic – 3 pods
Ginger – small piece (1 inch)
Grated coconut – 7 tbsp (or) 1/2 cup
Tomato – 2 (big)
Method to prepare Delicious Tomato Sambar Recipe:
In a mixer, grind all the ingredients which is mentioned in the paste list. When you are done, leave it aside.
Heat oil in a pan and wait for it to turn hot. When hot, add in the mustard seeds and allow it to splutter. Now add the channa dal and urad dal and fry these ingredients well till thy turn into a light brown colour.
Add to the pan the chopped onion, tomato puree, curry leaves and coriander leaves and fry well.
Now add in the ground paste to the pan. Also, add in chilli powder, salt and water and bring the ingredients to a boil with the help of water added to it.
Continue to boil for 10 to 15 mins.
Remove from heat and serve your yummy spicy tomato sambar along with white rice.
Nutrition Tip
Tomatoes contain an acid which is good for your health. The acid helps to keep cancer at bay. It also boosts your immunity level. Tip Allow the sambar to boil well. When it boils, the flavours are stronger and better.
Photo credit: Kaustav Bhattacharya / Foter / CC BY-NC-ND