Henna application is good for the hair and is considered to be a natural dye devoid of any chemicals. Women love to dye their hair with henna and look good.
In case a person is considering using henna hair dye as an all-natural alternative to traditional hair dye then often the person tends to visit a professional salon. Before one venture on the henna dye, it is better to know certain facts about them.
Lots of women are going in for this natural dye. As henna for hair, henna is indeed good for the texture of the hair. In the East, henna is popular during marriage ceremonies and now even in the West women have started using it. In fact, some men also use henna to dye their hair.
Henna for hair, henna is definitely much sought after as a cosmetic not only for the hair but also to adorn the feet and hands.
1. Is Henna Good For Your Hair?
Henna hair dye is accepted as a good conditioner for one's hair, and as a result, it can make it stronger, thicker, and shinier. It may also help to restore the natural pH balance of one's hair and scalp as well. Here you can also read Benefits of using Henna for Hair.
2. How Long Does Henna Stay in Your Hair?
Henna happens to be a permanent hair dye. The color is most vibrant for the first 4 to 6 weeks, and then gradually fades after that, although some amount may remain.
One needs to keep in mind that in case one wants to dye the hair later, it may be difficult to go lighter in color. Henna is indeed very hard to lift out of the hair later. It becomes difficult to get hair highlighted.
3. It is Messy to Apply & Can Stain the Skin
It is important to be well prepared ahead itself and know the facts before using henna. The henna hair dye does not go off so easily one's applied and will remain in the hair for a long time. It should not take a person's surprise after applying it and then regret having applied. One must be fully aware of the color tone. Henna for hair, henna is definitely good for the hair and keeps the hair healthy.
When mixed together, henna indeed comprises the texture of mud and it can feel a little awkward to apply. As a result, there is usually some that drip on the floor, and down one's forehead
Before one applies the henna dye, it is better to protect the
skin by making use of using a thick balm or cream in order to create a barrier.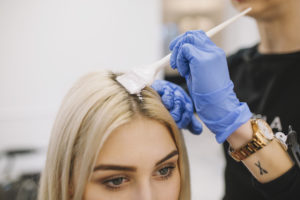 4. Henna Hair Dye Can Take a Long Time to Set
Depending on the vibrancy of the color tone, henna can take 1 to 6 hours to develop.
No doubt one has to keep the scalp wrapped in a shower cap. (The shower cap keeps the dye warm, and therefore is very effective, while also preventing drips while walking around the house)
5. Henna Will Not Necessarily Even-Out the Hair Color
Henna is good for highlighting the roots as well. It strengthens them and provides a healthy look to the hair. One feels very refreshed with henna in the hair. The hair thickens and is easily manageable.
also, read:  How to apply Henna for Grey Hair
Conclusion
There are several brands of henna available in the market. One has much to choose from. Lemon juice and coffee are added to the mix in order to give it the thick shade of dark tone. Lemon juice provides the required shine. Even while attending marriages, in fact even the bride often uses henna as it gives an attractive look. An attractive hue is formed then glows in natural sunshine. Henna has no chemicals and is therefore considered to be a natural dye.