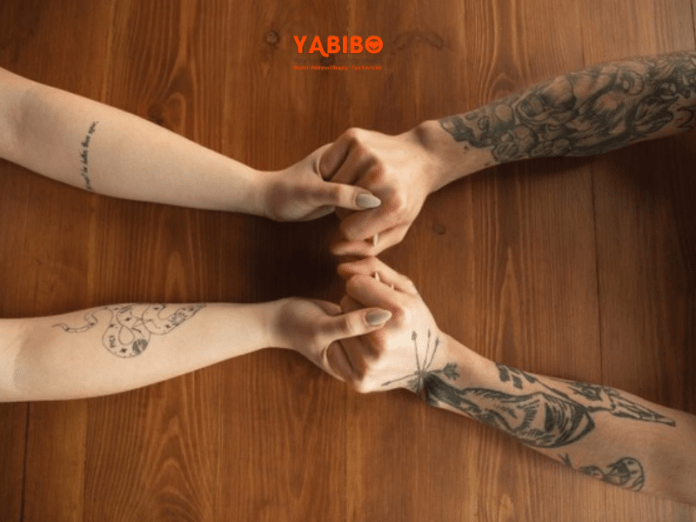 Matching tattoos for married couples are unique and attractive, highlighting true love existing between the couple. Matching tattoos for couples are varied and couples can select the best.
Being in love is means much ecstasy and couples need to keep the fire alive. They try to showcase their love and affection for each other and tattoos highlight this bond of togetherness.
Romantic matching tattoos for married couples portray true love for each other.
Here are few matching tattoos for couples:
The King and Queen of Hearts
This creative tattoo has royal and straightforward. It is made up of two mini black outlined and European-Style crowns placed on the hand. Both the crowns do have minor differences that separate them as the Queen and King crown.
Symbolism
The tattoo is a symbol of love, and also represents responsibility cum power. The crown means making the bond as well as the relationship stronger.
Placement
The tattoo can be placed on one's hand as it is small. It can also be placed on one's neck, wrist, or face.
Infinity Rose
Infinity tattoos are popular matching tattoos for married couples as they provide a unique as well as flattering touch to one's body. This infinity rose tattoo does include a black-inked infinity sign, which highlights a red-inked rose as well as green-inked leaves growing on the infinity sign. This tattoo is unique and also helps a person achieve a symbolic as well as romantic touch.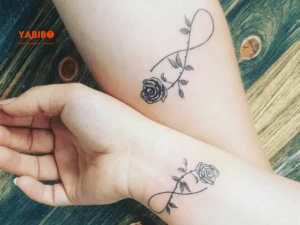 Symbolism
Infinity tattoos do symbolize the everlasting love between the partners. It depicts that are love has no boundaries when it comes to loving one's partner. The rose growing on the infinity sign does symbolize hope and new beginnings in one's romantic journey.
Placement
It can nicely be placed on one's wrist and it is a small in size tattoo. It can be displayed on one's ankles or shoulder.
The Sun & Moon
This tattoo is portrayed by a black outlined filled with yellow cum pink colored ink and a black outlined moon having a splash of blue ink. The sun adds a feminine dimension. The sun is perfect for the girl, while the moon happens to be perfect for the man.
Symbolism
This tattoo is perfect for couples who are of differing personalities. The moon indicates calm, dark, and cold, while the sun represents energy, light, and heat.
Placement
The perfect place for this is on the wrist, hands, shoulders, or perhaps back.
The Missing Jigsaw Piece
Jigsaw puzzle tattoos are superb matching couple tattoos that add to the fun and cute romantic vibes. This tattoo does include a black outline of two puzzles on each partner's hand, and once the hand is brought closer, the tattoo looks as though it connects both the partners.
Symbolism
This tattoo symbolizes the deep connection that couples share. The highlights the " love journey" and improves and builds relationships together.
Placement
The perfect place for this tattoo would be on one's wrist.
The Yin Yang Tattoos
Yin Yang tattoos bring forth the feeling of togetherness and perfect love for each other. This tattoo highlights a black outlined yin, which does represent a feminine vibe, and a black inked yang that tends to displays a masculine vibe. When both these tattoos come together a perfect circle is created.
Symbolism
This tattoo artistically indicates couples are different from each other but also complement each other. It depicts a balanced relationship.
Placement
The ideal place for the tattoo is the wrist.
Conclusion
These matching tattoos for couples bring forth the love and sensitivity between couples.  They depict true love for each other existing between a couple and are attractive when displayed on the body.