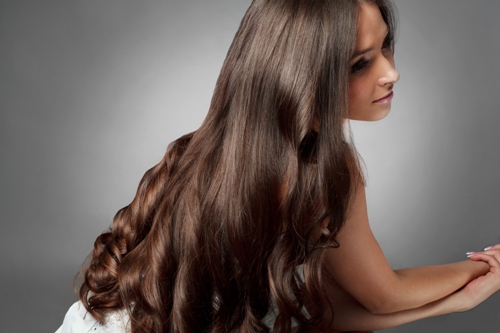 I have read in many books that eating iron-rich foods helps hair grow faster. Although keep in mind iron supplements aren't absorbed by the body as well as food sources so its better to get it from food sources such as beef, beans, etc, I found sleeping on silk is very helpful to keep hair from breaking and from getting frizzy.
Below are 20 best hair health tips :
A well-balanced diet is the best way to keep your hair healthy and strong. Eat plenty of fruit and vegetables, nuts, brown rice help for weight loss, beans and pulses, and you will have tresses in top condition in no time.
Use right shampoo and conditioner for your hair type. Pick a combo for fine, greasy, dry or colored hair, and stick to it. There are many specialist products made to care especially for you.
The sun, even during winter, has drying effects on your hair and can fade color. Use products that contain sunscreens and cover-up in direct sunlight during the summer.
Massaging your scalp for a few minutes each day will stimulate circulation and remove dead skin cells, thus helping to prevent dandruff.
If you have oily hair, rinse it with the diluted, fresh lemon juice or cider vinegar for superb shine, and to eradicate those greasy roots.
Shoulder-length hair is, on average, about 2 years old, so treat it like a piece of fine, old lace. Avoid unnecessary brushing, combing or handling – use soft bristles that bend in the brush.
Pay careful attention to how you wash your tresses: rub shampoo into the palms of your hands and distribute evenly, lather and repeat with half as much shampoo. Rinse and apply a matching conditioner mainly to the ends and mid-lengths.
If you lead a busy life and do not have time to cook, supplement your diet with the hair-building vitamins B6, B12, evening primrose oil, folic acid, and a good multivitamin.
Help your hair to reach its growth potential by eating well and getting lots of sleep.
Stress and negative emotions can play a part in hair loss, flaky scalp conditions and excess sebum or oil production. Find time to relax and de-stress for healthy locks.
Wash your locks with warm water. Hot water stimulates sebum production in the scalp and can lead to greasiness.
Have regular trims. Any stylist will recommend you visit the salon every six to eight weeks to zap split ends and encourage the hair to feel healthier.
Moving between cold and warm environments during the winter is very stressful for your tresses. Replace lost moisture with a weekly deep conditioner for improved shine.
Reduce the impact of heat styling with the good protector spray or balm. Choose a non-greasy product that would not weigh your hair down.
Boost your color, natural or dyed, with a specialist shampoo and conditioner, followed by a color shot or leave-in color protector.
If you are keen on swimming or the gym, you may need to wash every day. Use a gentle, moisturizing shampoo and light conditioner to prevent over-cleaning.
Deep cleanse your tresses weekly to remove any product build-up and revitalize your color.
Eliminate smoking, caffeine and fizzy drinks from your life – it will make your hair grow stronger and longer.
Seal the cuticle of your strands and boost shine with a blast of cool water after finishing your cleansing regime.
If you live in a hard water area, do not over-lather a 'dying' shampoo. Instead, wash it out immediately and re-lather with more.
Try these 20 best hair health tips and enjoy healthy hair !!!