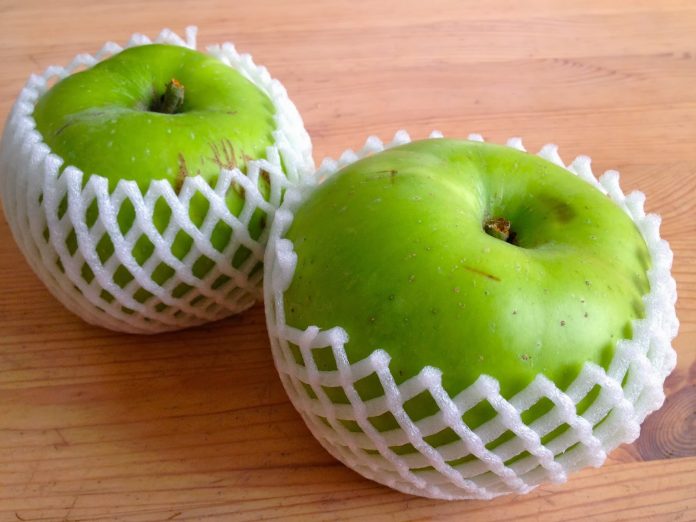 If you are fond of dumplings, tarts and different kinds of pies, Bramley apples are something you must try! These apples are consumed greatly in the UK. Like normal apples, these apples are not sweet – rather they are sour. This is the reason that they are used in various recipes and not consumed like a normal fruit. However, you will be surprised at how wonderful bramlep apple dishes can taste! Read about Easy Bramley Apple Recipes.
Here are some excellent yet simple Bramley apple recipes, which you can try today:
Deep filled Bramley fry
To make this you will need 5tbsp brandy, 200g sultana, 140gm golden caster sugar, plain flour, 750g all butter short-crust pastry, I egg beaten with little milk, 5 Bramley apples, cored, peeled and finely sliced, ¼ tsp of nutmeg, allspice, and cinnamon, vanilla ice cream or clotted cream. This dish uses the baking technique to bring in the best results. It tastes great with various flavors and tastes. It goes best when served with vanilla ice cream or clotted cream.
Bramley Rarebit
For this, you will need 4 slices of rustic bread (for base), (for topping) 175 grams Bramley apples – peeled, cored and grated, cheddar cheese – 75gms grated, 1 tbsp wholegrain mustard, softened butter – 25gms, 1tbsp flour, chutney, and watercress. Preheat the grill on medium flame. Mix all the ingredients which are used for topping. Toast the bread on the single side till it turns golden brown. Place the mixture on the bread and toast the same for 3-5 minutes. Serve with chutney and watercress.
Baked Bramley Apples
This is one of the most favorite recipes for Bramley apple lovers. Scoop out a little pulp from the apple core and stuff with a rich mixture of crushed oatcakes, cloves, nutmeg, walnuts, honey, Muscovado sugar, Medjool dates, black pepper etc. Preheat the oven to 220°C. Put a bay leaf in the center of the apple by making a small slit for that special aroma. Bake the apple for about 20 minutes till it turns golden brown. Juice from the apple also oozes out when completely baked.
Soup with Bramley apples, lentil, and spiced carrot
Things which you will need for the recipe include finely cut carrots, chopped Bramley apples, cumin seeds, coconut cream, olive oil, celery stick, chili flakes, vegetable stock and split red lentils. Heat the pan and add chili flakes and cumin seeds till they release the aroma.
Take out half of the fried items. After adding the oil, put the carrots, celery, and apples in the pan. Fry for a while and then add lentils, stock, and coconut milk. Simmer and cook till the vegetables and lentils are soft. Blitz the soup till its smooth. Add salt and pepper. Sprinkle the kept aside spices and put a spoon of yogurt. This goes best with naan bread.
Bramley Apple and Ham Rosti
With ingredients like Bramley apple, ham, potato, chopped chives, cheese, mustard, and crème Fraiche, this makes an excellent Bramley apple recipe. You can also add sundried tomatoes to make the dish yummier. Drain out excess water from the apples and potatoes by putting them in a cloth and squeezing them thoroughly.
Add all the other ingredients to the potato and apple and mix everything together. In a non-stick pan put oil and let it heat. Take small parts of the mixture and make balls from the same. Make them flat by slightly pressing them. Put these flat pieces in the oil and fry till they become golden brown. Serve with a spicy sauce.
Bramley chicken Kiev
To make this dish you will need 4 pieces of skinless chicken breasts, 2 cloves crushed garlic, 175 gm Bramley apples grated after peeling and coring, chopped parsley 2 tbsp. flour 1tbsp, softened butter 50gm, fresh bread crumbs 60gm, 1 egg, beaten, carrots, potato, and broccoli. Heat the oven to 200°C and at the same time oil a baking sheet. Put a slit in the chicken breasts so that a pocket kind of structure forms. Mix all the ingredients like the apples, parsley, garlic, butter together and season the same with black pepper.
Fill in this mixture in the slit. If there is any leftover mixture, keep it aside. In different shallow bowls, put the egg, flour, and breadcrumbs. Add salt and pepper for seasoning the flour. Take each chicken breast, dip first in the flour, then in the egg and finally in the breadcrumbs. See that the whole chicken breast gets a good coating. Place these on the oiled baking tray and bake for 25 minutes until completely cooked. The outer crust turns golden in color. The leftover stuffing can be heated in a pan and served with the chicken breasts with potato, broccoli, and carrots.
Bramley apple crumble
For making this awesome dish, you will need 4 large Bramley apples, juice and zest of 1 lemon, olive oil 4tbsp, ground cinnamon 2 pinches, unrefined castor sugar 175gm, cold unsalted butter 115gm, castor sugar 140gm, plain flour 225gm and porridge oats 25gm. Preheat the oven to 200°C. After peeling and coring, cut the apples into large chunks. Put oil in a saucepan and once it gets heated, add the lemon juice and zest, unrefined castor sugar, cinnamon and lastly the apple chunks. Cook these for 5 minutes till the apples soften.
Put the mixture in a baking dish. Take a food processor and add the flour and cold butter into it and blitz. You will get fine breadcrumbs. Tip this into a bowl and stir in sugar thoroughly. Put this over the stewed apples and sprinkle the oats from the top. Bake the whole thing for 30-40 minutes until it becomes brown. It goes best with ice-cream or custard.
Bramley and cinnamon tiramisu
This recipe is excellent for parties and easy to make as well. you will need 3-4 large Bramley apples, which need to be peeled, cored and sliced, cinnamon and apple tea bag (1 each), caster sugar 100gm, apple brandy 4tbsp, water (1tbsp), 2 medium size eggs, ground cinnamon health benefits 1tsp, sponge fingers 12, mascarpone cheese 250gm and drinking chocolate for garnishing. For making the Bramley apple sauce, place the sliced apples, water, and half the sugar in a large pan. Ensure that the lid of the pan is tight.
Put it over a gentle heat and gradually it will start boiling. Stir the mixture till the apples are soft and fluffy and in semi-solid form. Take it off and let it cool. Take a measuring jug and put the tea bags in it. Put about 150ml of boiling water in the jug and let the tea infuse for about 5 minutes. To this add the cinnamon powder and brandy. Finally, pour the liquid in a shallow dish. Now, whisk the eggs and the remaining sugar so that they become fluffy. To this add mascarpone cheese and whisk again so that a smooth mixture is formed.
Now it is time to assemble the whole thing. Take 4 glasses and make the bases of the glasses with the Bramley puree. Now break the sponge fingers into small pieces. Dip them in apple tea mixture and put on the apple puree. Add the mascarpone cream from the top and dust with drinking chocolate. Put the glasses in the fridge for a minimum of 6 hours so that it settles well. It tastes best when served chilled.
Bramley Apple and Rhubarb Trifle
Looking for a freshening dessert? The Bramley apple and rhubarb trifle is an excellent choice in this regard. To make the dish, you will need 2 small Bramley apples, which need to be peeled, cored and chopped into small pieces of 1cm, juice and finely grated zest of one lemon, light soft brown sugar 4tbsp, 1 large chopped bell stem ginger, 400gm rhubarb, which will be chopped into 2.5 cm pieces, ½ chopped Madeira cake, stem ginger syrup 2tbsp, Greek yogurt 75gm, ready-made vanilla custard 300ml, and toasted flaked almonds 25gm.
Take a pan and add the apples, lemon zest, lemon juice, and 3 tbsp sugar to it. Boil and simmer the ingredients till they become soft and have a pulpy appearance. Take another pan and put the rhubarb, stem ginger syrup, stem ginger, 1tbsp sugar and 2tbsp sugar in it. Cover the pan and let it simmer for about 5 minutes. Divide the rhubarb mixture equally in glasses along with the cake. Add the Bramley apple sauce from the top. Take a separate bowl and mix the vanilla custard and yogurt. Put dollops of the mixture in each glass. Lastly, sprinkle the roasted and flaked almonds on top.
Bramley and walnut scones
Looking for something interesting for snacks? This recipe is more than perfect. You will need 225gm self-raising flour, 50gm butter, 1tsp baking powder, 4tbsp caster sugar, 225gm Bramley apples kept ready after peeling, coring and chopping, 25gm chopped walnut pieces, 150ml milk for glazing, clotted cream and bramble jam for serving. Preheat the oven to 200°C. After sifting the baking powder and the flour in a bowl, add the butter and mix well till it looks like crumbs. Add the chopped apples, walnuts and sugar and mix well.
Now add sufficient milk, so that soft dough is formed. Add dry flour on a surface and roll out the dough till it has the thickness of 5cm. Using a round fluted cutter, cut small pieces from the rolled out dough. Place these on a baking tray at a distance from one another. Use the remaining milk for brushing the top. These will be baked for 10-15 minutes until they rise and have a light brown appearance. Cool once baked. Serve with bramble jam topping or with clotted cream.
The above mentioned Bramley apple recipes are quite simple and hassle-free. These can be served at lunch, dinner as well as snacks.