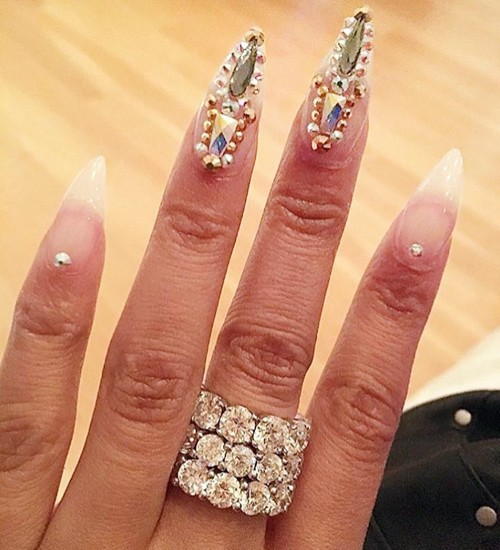 We all know Nicki Minaj as a popular rapper, TV personality, singer-songwriter, voice actress and a great entertainer. Along with her great career and reputation in the entertainment industry, Onika Tanya Maraj, aka Nicki Minaj, is also known for her great styles and fashion senses. Special mention needs to be made regarding her nail art designs. They are simply amazing and stunning. Browsing through the designs is surely going to blow off your mind. Read more about Nicki Minaj nails
Mentioned below find some of the amazing nail designs of Nicki Minaj:
• Stiletto shaped nails with embellishments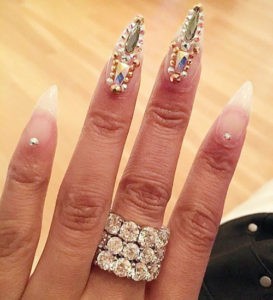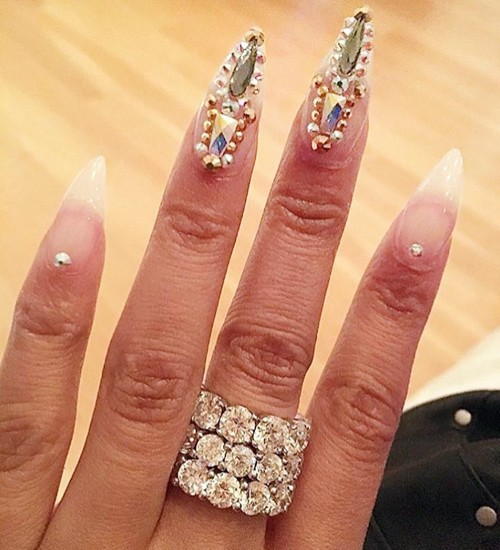 Check out this amazing nail design of Nicki Minaj, where the nails are designed in the shape of a stiletto. The nails are painted in transparent shade. The nails are embellished with studs, sequins and beads. The middle finger and the ring finger have ornate nail designs, while the other three nails on the fingers have minimal embellishments. This gives a perfect finish to the nails.
• Neon bright pink nails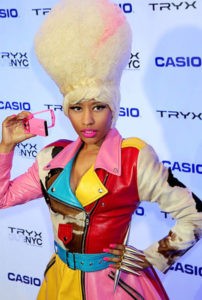 There has been hardly any time when Nicki Minaj has not made some striking fashion statement. Check out this image of hers where she wears a multi-coloured bright dress with some kind of weird hairdo and most importantly neon bright pink nails with some unique accessory for the fingers. The nails have been filed into a square shape and neon bright pink nail paint is applied.
• Golden minx love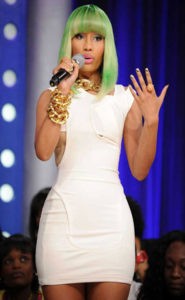 Nicki Minaj's attires, makeup and other accessories have always attracted attention for their uniqueness and special appeal. The golden minx nails that she flaunts in this image are mainly worn so that they match with the bold gold jewellery that is worn with the white dress. The nails are short in sharp contrast to general nail art designs and forms, but nonetheless it is chic and stylish.
• The nude-shade almond-shaped nails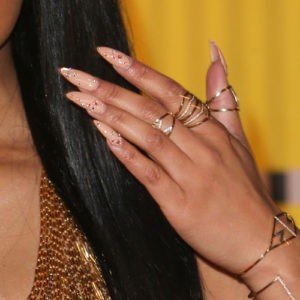 Almond shaped nails are a favourite with Nicki Minaj. Many of her nail art styles and designs are in this shape. In this style, the almond shaped nails are painted in the nude colour shade. To enhance the appeal and beauty of the nails, colourful studs are scattered on the nails in no specific pattern. The random placement of the colourful studs made this nail art design really attractive.
• Colourful nails in varying designs and patterns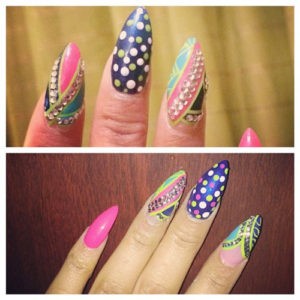 Have you ever thought that the five fingers on your hand could have different nail art designs on each nail? Well, it might sound strange but Nicki Minaj has flaunted this amazing nail art design with great élan. Along with the use of different coloured nail paints, the design involves making great designs and embellishing with suitable decorative items. The colours that are used in the almond shaped nails include bright pink, navy blue, green, yellow, orange etc. There is also use of studs and beads in the nail art design.
• The unique combo of black and clear short nails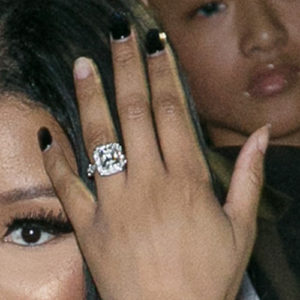 There are times when Nicki Minaj likes to keep nail art designs simple. And this is when this extremely easy nail art design was created. Moreover, this design is for short nails – so girls who have short nails can definitely give this one a try. Cut the nails in short, round shapes. Use black colour nail paint for painting all the fingers except the ring finger. Paint this nail with a light pink or nude shade for striking the perfect contrast. You can also slip on a stylish and bold ring finger to make a great style statement.
It is true that the nail art styles that Nicki Minaj has done are amazingly striking. However, with the right kinds of nail paints and other accessories, you can try the styles at home as well.