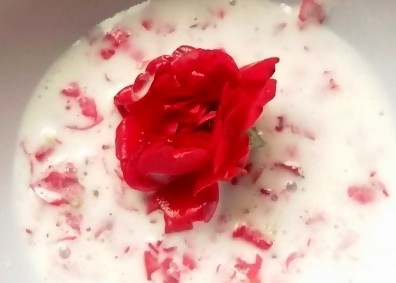 Is it true that we get glowing, radiant and smooth skin from the Rose petal face pack? For ages, the rose is best known for the symbol of beauty and love. It is proven that Egyptian queen Cleopatra was applying rose petal face pack on her face to enhance her beauty. Even today, rose petals are used in the preparation of face masks, perfumes, and cosmetics. Rose contains enormous skin care and health benefits like treating skin aging, dark spots, pimples, scars and also maintaining skin firmness and skin glow. The oil extracted from the petals of a rose is efficient in treating skin problems.
Rose petal face mask:
Ingredients: 2-3 tablespoon rose petal paste, one tablespoon lemon juice, one spoon of sandalwood and a pinch of turmeric powder for beauty.
Procedure to prepare the face mask: Mix all the ingredients mentioned above in a stated proportion. Apply on the face and allow it on the face for 15 minutes. After washing face, apply a coating of rose water and let it dry. This face pack helps in lightening the dark skin complexion and increase the face glow. This face mask works for all types of skin. Sandalwood and turmeric powder combination will help in brightening your skin.
Orange peel and Rose petal face pack:
In order to prepare this face pack, take two tablespoons of orange peel powder, 15 crushed rose petals, one tablespoon of honey. Combine all these ingredients and keep it for 10minutes. Now apply the prepared face pack on your face, providing gentle massage in a circular motion. Leave this face pack dry for 20 minutes. Wash your face after 20 minutes with lukewarm water. Pat your face dry and apply moisturizer or rose water.
This rose petal face pack is suitable for oily skin. The pollutants and dust present on the pore, suntan will be removed from orange peel. Honey helps in deep conditioning your skin, fades blemishes, and dark spots. Rose petal helps in deep cleansing, skin clarifying and skin moisturizing.
Mango and rose petal face pack for flawless skin
Cut a small size mango and scoop the pulp out. Take a blender and put 30-40 rose petals and scooped out mango. If your skin is dry, then add 5-6 tablespoon of milk and for oily skin, use rose water. Blend the ingredients until it makes a fine paste. Apply this paste on your face and leave it for 10 minutes. After that, wash your face and pat it dry using a cotton towel.
This face pack is one among the hydrating and rejuvenating face pack which is suitable for both oily and dry skins. Mango is affluent in Vitamin E and Vitamin E which boosts production of collagen and moisturizes skin. It also gives a radiant and healthy glow. Rose is rich in Vitamin E, C, B3 and A which keeps your skin soft and brighten your skin complexion and hydrates skin.
Make use of the above-mentioned rose petal face pack and get effective results in few days.