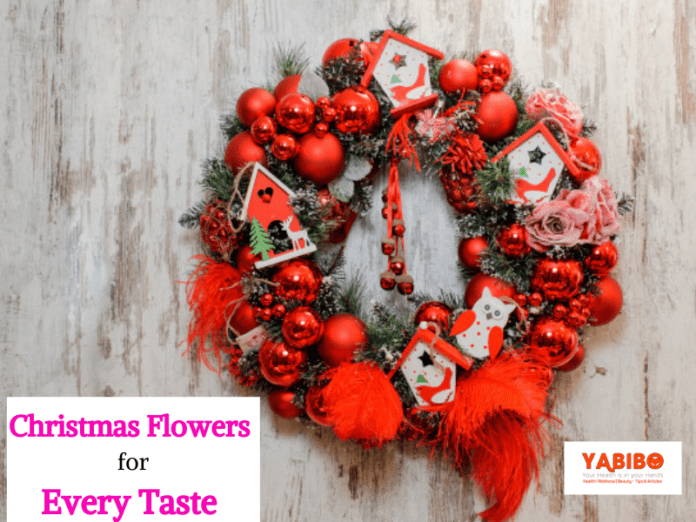 Traditional Christmas flowers and plants heighten the aura of the Christmas season. Christmas flower arrangements are done by women to enhance the environment of their homes.
The Christmas season is a fun season and the time to decorate one's home beautifully with lovely flowers. What is important is choosing a combination of such beautiful flowers and creating a spectacular environment at home. Home decoration at Christmas time entails the choice of traditional Christmas flowers and plants for beautiful interior arrangements.
Why not try some of these Christmas flowers?
1. Pink poinsettia in a gold planter
This is an attractive and pretty Christmas flower arrangement. These flowers, do include poinsettias, roses, and amaryllis, which will certainly brighten up one's Christmas displays. 
2. Poinsettia with Silver Touches
This is a poinsettia plant which is a must for one's holiday decor. The Ice Punch variety consists of white-and-silver leaves, or a person can go in for the variegated look by adding silver spray paint to a red poinsettia. These Christmas flowers are to be placed in a pretty silver pot to show off the gorgeous sparkles. These flowers heighten the splendid aura of the Christmas season.
3. Paperwhites with Twigs and Cedar Sprigs
It is sensible to opt for French country vintage with stark-white paperwhites and slender twigs ranging from aged terra-cotta containers. Add a flowing sprig of cedar along the base of the pot to create a perfect display for the mantel, shelf, or even sofa table. 
4. Evergreen and Flowers
By cutting evergreen branches and adding a seasonal touch to a simple red flower arrangement, the interior décor is enhanced. To get the perfect look, it is worth arranging large red blooms such as ranunculus, peonies, tulips, or carnations. Then, the decorator can accent the Christmas flower arrangement with cut branches.
5. White Parrot Tulips and Fern
Christmas flower decoration means trying out two-toned petals of the parrot tulip. By highlighting their chartreuse stripes by placing Plumosa fern to the bouquet and snippets of spruce at the base in a metallic serving tray. Furthermore add to the color theme by filling clear containers with blue, green, and metallic, new, or even old ornaments.
6. Mini Woodland Setting with Roses & Hydrangea
It is worth trying out an attractive arrangement featuring red roses, white hydrangeas, hypericum berries, as well as pine branches. Furthermore being creative means wrapping the container with textured bark from fallen trees and then accenting the base with various colors of reindeer moss.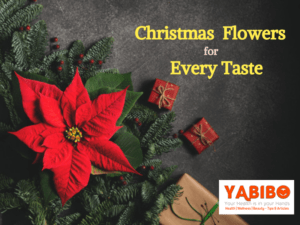 7. Two-Toned Amaryllis with Greenery
The long stems of amaryllis can be displayed in their full blooms in a tall as well as a simple yet elegant pitcher or vase. It is worth including various evergreen sprigs such as spruce as well as holly with the holly branches still holding their berries. Then add accessories with decorations of the Christmas season with vintage ornaments, colorful bows, and tea towels. This is indeed one of the traditional Christmas flowers and plants decoration.
8. White Roses & Pine
This is happening to be a Christmas flower arrangement and very pleasant to look at. The glass vase needs to be filled with cut roses as well as pieces of pine. To add decorative flavor to it, add cranberries to the vase.
9. Hydrangea & Eucalyptus Arrangement
This is a spectacular Christmas flower arrangement as it draws much attention with fluffy hydrangeas, fresh eucalyptus, as well and snapdragon. Then add touches of traditional red as well as green by slicing apples and making use of slices to circle the base of the arrangement. Keep ornaments in a variety of sizes thus creating festive sparkle as well as shine.
10. Winterberry & Amaryllis Arrangement on Mantel
Christmas time means traditional red-and-green decor. Simple arrangements can be made of red amaryllis, tulips, and winterberries that will definitely stand out on the Christmas mantel. Then add pretty ornaments in the form of winterberries.
Traditional Christmas flowers and plants can add much flavor to the Christmas season.