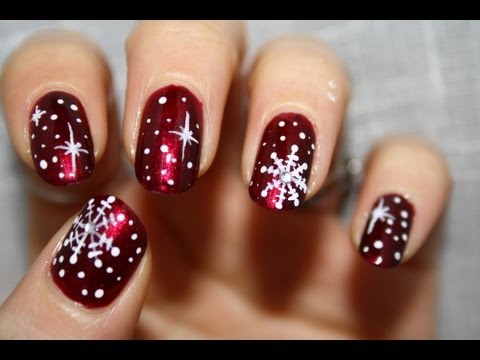 Are you passionate and excited about Christmas when Santa Claus will ultimately arrive at our areas to provide us with all big & small gifts and make our ceremony so special?
Christmas has its attractions that greatly impress us in the month of December. The whole character and atmosphere of a place have covered with snow; cool breeze touches the faces, & we all gear up for the Christmas celebrations. Below explained About Christmas Nail Art Designs
13 Fantastic Christmas Nail Art Designs Step by step
Today I am sharing with all such sweet, full stuff for you; it is all regarding easy Christmas nail art nail art designs. Design your x-mas nails by applying simple Christmas nail art designs only by following a few easy steps and it has done.
Some of the Christmas nail art designs have provided for you. Follow and enjoy the cheerful movements with these.
Realistic Tree Nail Art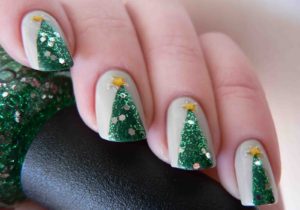 This type of nail art is unique and simple Christmas nail art designs, and these Realistic trees are even easier to make since you do not have to cut the tape triangles; just two thin strips, and you are ready to go. After that, you can paint your trees as you want.
Soft Snowflakes Nail Art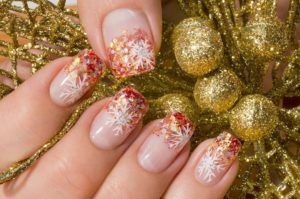 These snowflakes patterns are perfect for the chilly Christmas, & you can apply just any base color; it does not have to be the traditional color. These type of Christmas nail art designs looks great on black nails by only using the tip of a mechanical pencil.
Deck the Halls Nail Art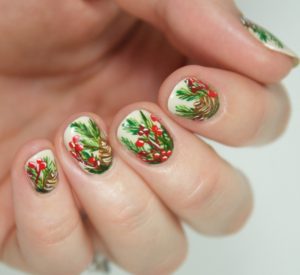 A little significance of holly on the French tips is the perfect small accessory to see you looking as pleasant as you feel. You don't always have to go out for nail art designs; sometimes, less is more.
Winter Snowfall Nail Art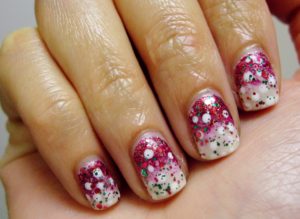 This is very straightforward and perfect Christmas nail art designs By the simple mixture of navy polish & silver glitter; you have got yourself the natural snowfall nails.
Christmas Pudding Nail Art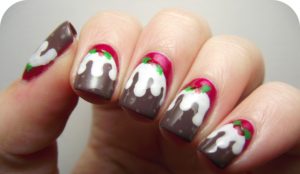 These Christmas pudding nails are very attractive and look beautiful. And they are not that difficult to make, either.
Santa's Hat Nail Art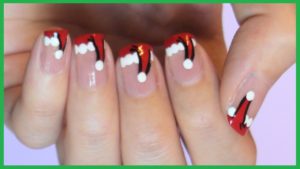 We have seen some Santa Claus doing the rounds, but this floppy hat is the real new style, and I fall in love with it. This is one of the excellent Christmas nail art designs.
Elegant Sparkle Nail Art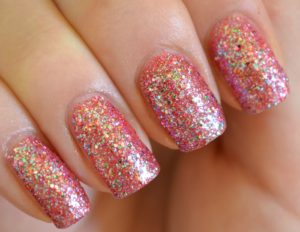 This nude-glitter is perfect for those who prefer a few mental sophistication over the more playful approach. A touch of sparkle works the long way.
Christmas Elf Nail Art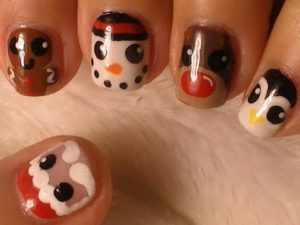 I have seen a lot of Santas & Rudolph nail art designs, but it looks the elves who do hard work back at the North Pole had ignored. So this patterns only suggested to those little hard-workers.
Festive Water Marbling Nail Art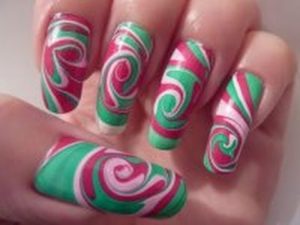 Everybody knows regarding the excellent technique of water marbling now, so make this into practice with the Christmas colors.
Abstract Tree Nail Art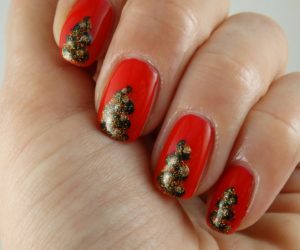 This type of nail art design can take a bit more time than the ancient trees, but it is a bit extra fun & funky. I had recommended this abstract tree design so that it stands out more.
Alternating French Mani Nail Art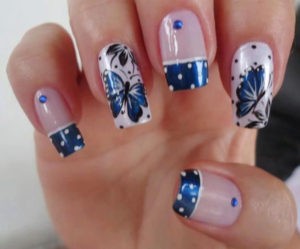 Apply the idea of the French manicure, but only use the Christmas colors preferably. And to make occasion only that little bit further enjoyable, make an alternating finger. Simple, right?
Good Old Green and Red Nail Art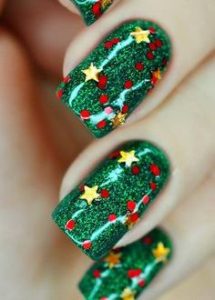 One thing that I like more regarding this style is that it's Christmassy without being too done in a bold; it would work great with design colors, too and one suggestion that doesn't apply dark moss green.
Simple Tree Nail Art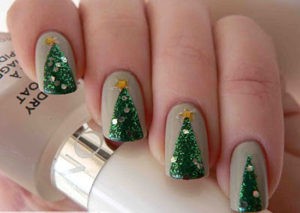 Women who prefer the minimalist appearance with clean lines apply these metallic trees. If you have some tape handy, you will be ready to pull this off quickly. Use cello tape rather of painters tape. so that the polish would not bleed as much.