Most of you might be crazy about nail art and some of them would find difficult to get the Nail Art for Short Nails. Are you looking for a gorgeous and beautiful way to add stylishness to your look? The answer is doing nail art to your nails. Having short nails will not trouble you in doing your nail art. You need to plan how the nail art can be done for short nails. This article contains the information on how to prepare nails before the nail art and how to do simple and good looking nail arts in an easy and effective way.
Setting your nails before Nail Art for Short Nails
Nail art can be done in various ways like polka dots, stamping, marbling, jewels, and glitters, duos tones which add a gorgeous effect to your art. Prepare your nails before doing nail art by following the below steps.
Step 1: Removing old nail polish
You need to make sure that there are no traces of previously applied nail color. If the traces are present, the nail art will not be clear and elegant.
Step 2: Filing and trim your nails
To make a neat and fine nail art, it is always preferred to have a shaped nail. If the nail is short, then avoid trimming the nails; rather file them into shape, either straight or curved.
Step 3: Applying a base coat:
The Basecoat is very much essential as it protects your nails from getting damaged or stained by nail polish or nail art materials. Choose the basecoats which are usually bluish or clear in color. Firstly, apply the base coat and allow it to dry completely. Applying base coat will also help in making your nail art last longer.
Beginner designs Nail Art for Short Nails
Nail Art with two colors for beginners: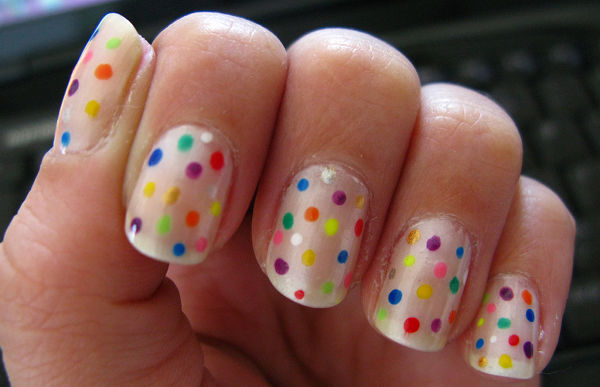 Firstly choose two complementary colors which make a great combination in a small nail. Apply a base coat and allow it to dry. Now you need to apply one color from the combination you choose on your nails and let it dry completely. Take a paint brush having a sharp tip, and dip the brush into complimentary nail color bottom. Start placing dots on the nail color applied previously. Some of the colors which make a great combination are black and white, pink and black, red and black, red and white.
Glitter effect to nail art:
Take a nail color and loose glitter to give a glitter effect to Nail Art for Short Nails. As usual, apply a base coat or clear nail color to your short nails. Allow it to dry for a few minutes. Now mix the nail gel with the loose glitter and apply on your nails. Once the application of the glitter combination dries, you can apply a coat of transparent nail polish. This gives a shimmery look to your nails.
These are the two basic designs when you are a beginner to nail art. The above-mentioned nail art will look good for short nails and easy to learn. So, why to wait? Start doing nail at your home and add a flair to your look.