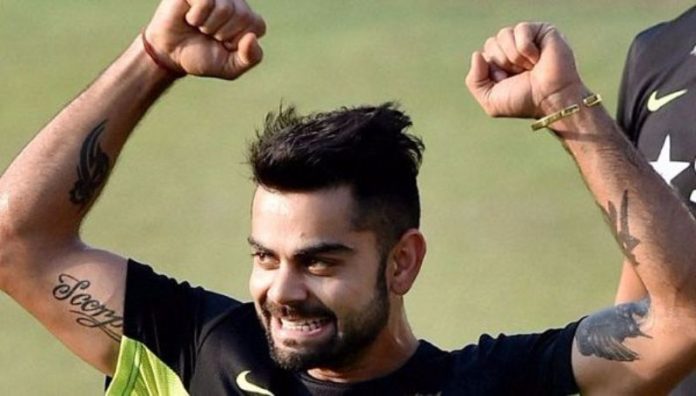 Virat Kohli tattoo is very popular and no doubt Kohli tattoo has much to convey about the personality of the famous Indian cricket captain. These tattoos are very interesting and unique.
Virat Kohli is a famous Indian cricketer and is currently captain of the India national team. A right-handed top-order batsman, Kohli is of course regarded as one of the best batsmen in the world. He does play for Royal Challengers Bangalore in the Indian Premier League and has been the team's captain since 2013. Since October 2017, he has been the top-ranked ODI batsman in the World and is currently 1st in Test rankings with 928 points. Among Indian batsmen, Kohli has the best ever Test rating, ODI rating, and T20I rating.
Virat Kohli has got his body inked nine times. Each and every tattoo on his body has a story to tell and do signify a turning point in the life of the dashing Delhi batsman. Virat Kohli tattoo is something that cannot be ignored.
1. Lord Shiva:
On Virat's left forearm happens to be a tattoo of Lord Shiva who is meditating with Mount Kailash and Lake Manasarovar in the background. Lord Shiva, happens to be one of the principal deities in Hinduism and is referred to as the Destroyer of evil and the God of creation.
Only the destruction of wrong things would rather pave a path for the right things in life. Even after facing setbacks in life, Virat Kohli rose up against to become a better person following the principles of Lord Shiva. Kohli tattoo is very popular.
2. Monastery:
Just beside the tattoo of Lord Shiva happens to be a tattoo of a monastery on Virat's left forearm. For a man who has dedicated his life to the monastery of 22 yards, the tattoo does symbolize peace of mind that does help him excel in the cricket pitch. Virat Kohli tattoo is unique in its own way.
3. Tribal art:
Virat Kohli's tattoo is also the shape of a tribal design. The tribal art does represent aggression and happens to be one of the first tattoos that the aggressive Indian captain got. After getting this tattoo as a novice, Virat Kohli got his body inked several times with a lot more meaningful tattoos.
5. Zodiac sign:
Born on November 5th, 1988, Virat Kohli's zodiac sign is Scorpio does symbolize that, the talented right-handed batsman got 'Scorpio' inked on his right arm. As a Scorpio, it is quite evident that Virat Kohli happens to be a strong-willed person who traversed through the difficulties of life with a brave heart.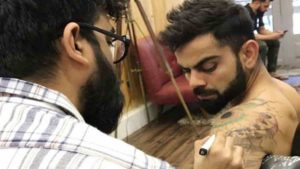 6 Japanese Samurai:
On the left arm, Virat has a big tattoo of a Japanese Samurai. The philosophy behind the tattoo is based on the Bushido code of the Samurai which does state the seven virtues of being a warrior – Gi (Justice), Yu (Courage), Jin (Benevolence), Rei (Politeness), Makoto (Honesty), Meiyo (Honor) and Chugi (Loyalty).
7 God's eye:
On one's right shoulder, is a big tattoo of a celestial eye. He calls it God's eye.
8 Om symbol:
Om symbol happens to be a universal sound, which is probably the most consistent thing in the whole universe. The sounds of the universe are heard all over.
Kohli is of the view that the Japanese Samurai tattoo has shown how in life he has fought several life struggling challenges.
His motto about tattoos is that they indicate his positive approach to life. It does need to unleash one's best self. A cursory glance at Kohli's tattoos would, in fact, tell us that he means what he says. He has in fact been inked four times and sports two tattoos on each of his arms. Kohli's tattoo does convey a lot about his attitude towards life.
Kohli does not back down from a fight. He has often shown with his actions on the cricket field. With his fearlessness as well as toughness, his tattoo does relate to him and others on a personal level.