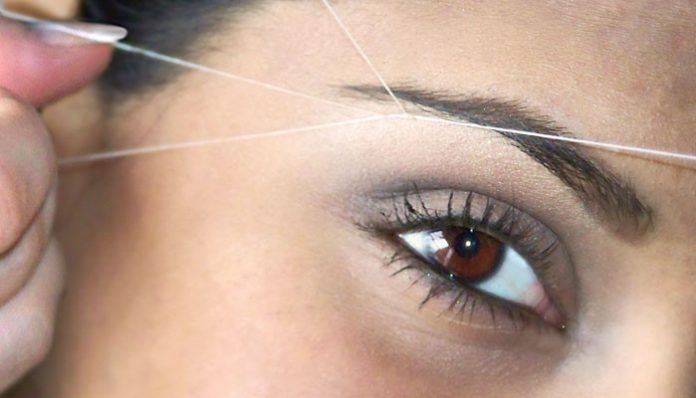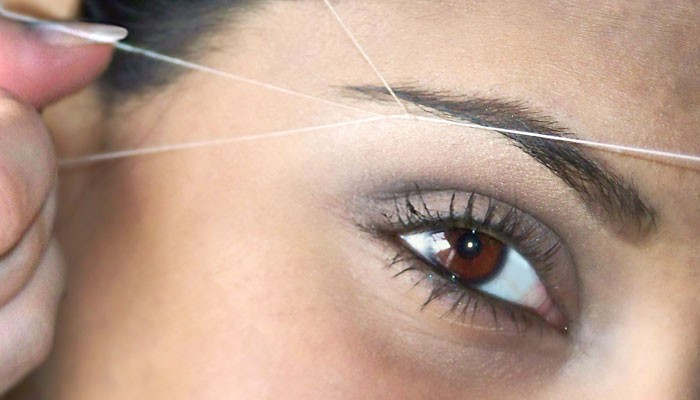 Have you fallen prey to a busy schedule, so much so that it has caused you to forsake your beauty regime? Truth be told, you are not alone, as far too many women have been taken captive by the thief of time. Before you give in to bushy brows, monobrows or out of shape one's, consider what we have to say. By the end of this post, no longer will you have to succumb to long trips to the parlour, waiting lines or small talk to kill time, which incidentally, the lack of, is the reason for this post! Unleash your inner beautician within as we bring to you the basic 101 for threading your eyebrows indoors. Learn How to thread eyebrows at home
Follow these steps for shapely eyebrows that are hassle free, pain free, lacking the whiff of what your beautician had for lunch!
Step one:
First things first, gather everything that you require mainly: Thick thread, loose powder, face astringent and a small pair of scissors.
Step two:
Measure about 15 or 20 inches of the thread and cut it. Once you have cut it, tie a knot at the end so as to form a loop. Ensure that the knot is tight enough to secure the loop.
Step three:
Once the loop is tight stretch it out so as to form a rectangular shape with the help of your hands, ensuring that your fingernails point upwards.
Step four:
Making use of one hand, turn the thread over so as to make an X right at the center. Once you have made the X rotate it again.
Step five:
Apply powder on your eyebrows or the area that you want to thread. Use compact powder as this will help the excess hair to stick to the thread more effectively. Read Natural Tips For Beautiful Eyebrows
Step six:
Locate the target of the hair you would like to remove, going against the direction of the hair growth. Adjust your hand in the following manner, opening and closing your hand to thread.
Step seven:
Once you have removed all the excess hair, make use of the scissors to snip off the hair at the start of your brows. This gives you a better shape.
Step eight:
Soon after you are done, apply the astringent all over. This helps to soothe your skin.
So there you have it, eight neat little steps to help you attain perfect eyebrows in almost no time at all. If you would like to make the task of shaping your eyebrows simpler, then try to prevent your eyebrows from growing out too thick. This way you can remove the excess strands fairly easily.
Read about : Tame Your Eyebrows Without Plucking
Shape your eyebrows right in the comfort of your home, it doesn't get better than this. Aren't you lucky to have stumbled upon this post? You can thank us later, till then, stay tuned for more hacks from us!