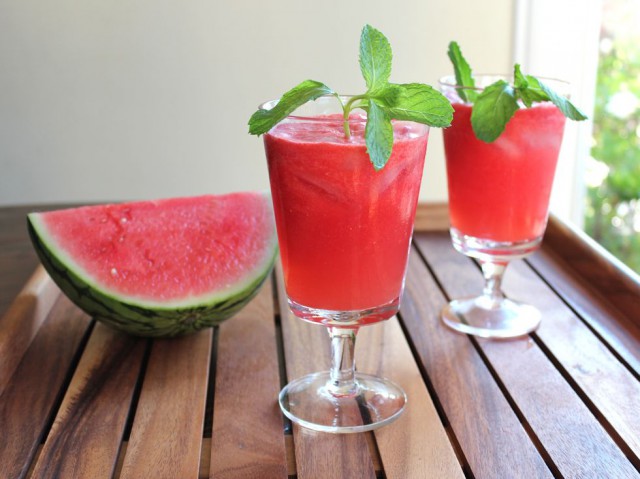 This chilled drink is a delicious thirst quencher on hot summer days. And it is sweet treat with added health benefits. The finely crunchy sweet tastes of this fruit are at the best during this season.
Some of nutritional facts of sweet and juicy watermelon are
It consists of nearly 91 percent of water and 8 percent of sugar
It is fat free and cholesterol free
Rich in vitamins A & C
Has very low sodium content
High in Lycopene content
Helpful to reduce the inflammation due to asthma, diabetes, arthritis etc.
It is high in energy and considered an ideal diet food.
This Summer Refreshing-Water Melon Juice recipe is very easy to prepare and no doubt it is everyone's number one favourite refreshing drink to beat the scorching summer heat. Hope you would love it.
Ingredients to prepare Summer Refreshing-Water Melon Juice recipe:
Watermelon pieces deseeded : 1 cup
Pepper :a pinch
Honey :1 tsp
Method to prepare Summer Refreshing-Water Melon Juice recipe:
Cut water melon into thin slices and remove seeds them
Scoop the watermelon pieces in the blender with a pinch of pepper.
Whip for few seconds and transfer to the glass.
No need of filtering the juice as it tastes delicious without filtering.
Allow to cool in the fridge.
Honey one tsp can be added if necessary.
Garnish with small pieces of water melon
Serve chilled & refreshing watermelon juice in tall glass.
Enjoy this all natural healthy drink with your entire family.
Photo credit: a2zphoto / Foter / CC BY-NC-ND