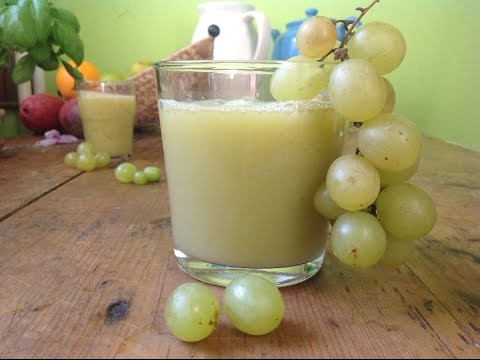 Fresh and healthy Green Grape juice is a tasty drink. I love green grapes so much and here is the season to enjoy the availability of fresh grapes. I like to prepare some delicious juice out of it and is sure to plus side us up on this hot summer days. Read about Health Benefits of Green Grape Juice
Health Benefits of Green Grape Juice
Healthy Facts of green grapes:
It lowers the cholesterol and protect against heart diseases.
It is an excellent source of Vitamin A, C, B6 and K, in addition to an essential minerals like potassium, calcium, iron, magnesium and selenium.
Grapes contain powerful antioxidants, which slackens ageing.
100 gms of grapes can provide 69 calories.
Lets share and enjoy the delicious recipe here.
Ingredients to prepare healthy Green Grape Juice:
Green grapes : 2 cups
Lemon juice : 1 tbsp
Ice cubes : 6
Sugar : 1 tsp ( optional )
Method to prepare healthy Green Grape Juice:
Wash the fresh grapes.
Blend grapes, ice cubes, and sugar and lemon juice for a minute.
Pour in glass and serve chill.
Yummy n healthy green grape juice ready to relish.
Photo credit: fontplaydotcom / Foter / CC BY