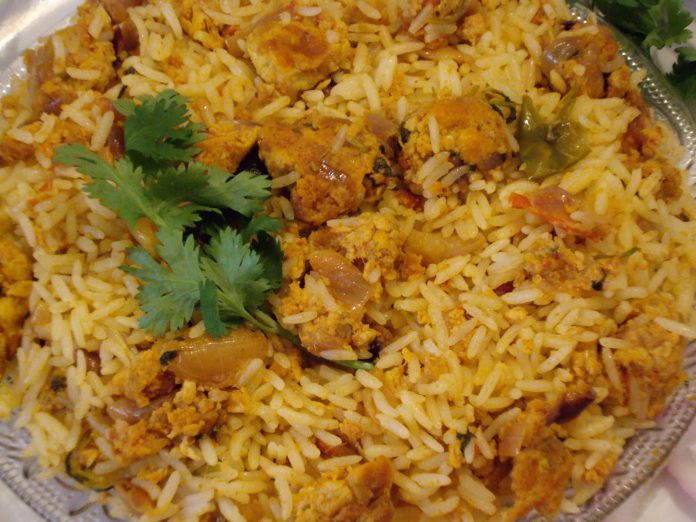 Spicy Egg biryani recipe is very popular Indian recipe and Indian cookery is famous for its mouth watery flavours, use of natural herbs and spices.
Here the rice and the egg are cooked separately and then combined in the final step.
It tasted awesome with the combination of onion raita. You can make it extra spicy by adding more green chilly.
Here, is the easy recipe for you and enjoy the delicious Egg biryani…:)
Ingredients to make Spicy Egg Biryani recipe:
Eggs : 4
Raw rice : 2 cup
Onion big : 2
Tomato : 2
Green chilly : 2
Turmeric pwd : ¼ tsp
Red chilly pwd : 1 tbsp
Ginger garlic paste: 1 tbsp
Ghee : 1 tbsp
Oil : 3 tbsp
Garam masala pwd : ½ tbsp
Coriander leaves : handful
Salt to taste
Method to prepare Spicy Egg Biryani recipe:
Wash and soak raw rice in water and strain it.
Pressure cook & make sure not to overcook it and spread it in a wide bowl.
Add 1 tbsp oil, mix well, this keeps rice non sticky and allow to cool.
Break and drop the eggs and beat to blend together.
Heat ghee and oil in a fry pan, add onion, green chilly, chopped tomato and toss it.
Once the tomatoes are cooked, add turmeric pwd, red chilly pwd, ginger garlic paste, garam masala pwd and salt.
Fry well till it turns to thick curry and oil separates.
Add ¼ tb water and allow to cook for 5 mins.
Add beaten egg, mix and allow to cook in low flame.
Gently stir it and continue cooking for some more mins.
Once the egg masala turns golden and fragrant, add this to the steamed white rice.
Mix gently. Serve hot with fresh chopped coriander sprinklings.
Serve this Spicy Egg biryani recipe with onion raita and kormas pairs excellent with this egg biryani…!
Photo credit: WarzauWynn / Foter / CC BY-NC