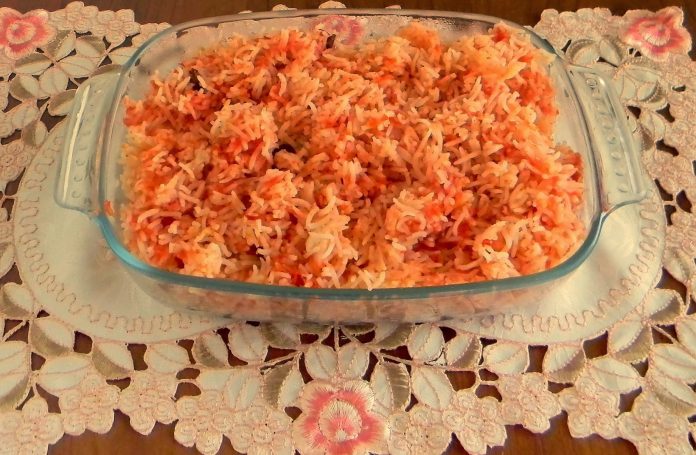 Nutritious Tomato rice recipe is a very refreshing and flavorful recipe. This tastes delicious and hugely simple to prepare with the few ingredients in our kitchen shelf. And this is most favorite variety rice dish in our house, particularly when we have to get ready the lunch box in busy morning hours. Tomatoes and rice makes the perfect combination of flavor. Here chopped tomatoes are sauted with the spices and then added to rice.
Ingredients for making Nutrtious Tomato Rice Recipe
Raw rice : 1 cup
Tomato : 3
Onion : 2
Green chilly : 2 or 3
Peas : ¼ cup
Ginger garlic paste : 1 tbsp
Turmeric powder : a pinch
Red chilly powder : 1 tsp
Ghee : 1 tbsp
Oil : 1 tbsp
Cloves : 2
Cinnamon : 1
Saunf : ½ tsp
Cardamom : 2
Salt as per required
Coriander leaves
Method for preparing Nutrtious Tomato Rice Recipe:
Wash and soak raw rice for 10 mins.
Drain water completely and keep it aside.
In a frying pan, heat a tbsp of ghee.
Add cloves, cinnamon,saunf, cardamom and allow to splutter.
Add 1 tbsp of oil in the same pan.
Add ginger garlic paste, sauté for a minute.
Add green chilllies and onion.
Fry till it turns light brown.
Add finely chopped tomato pieces.
Fry till it is cooked.
Now add turmeric pwd, red chilly pwd, peas and salt.
Add rice combine well.
Add 1 ½ cup water and cook it.
Once it is done, mix gently.
Garnish with freshly chopped coriander leaves.
Serve hot with onion raitha and potato chips.
Delicious & Nutritious Tomato rice ready to give a taste…!!!
Photo credit: avlxyz / Foter / CC BY-SA