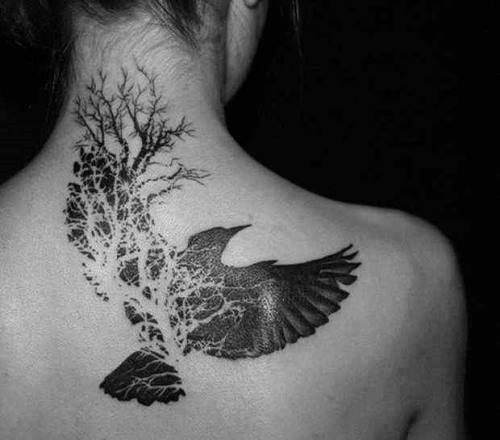 Mistaken by some cultures as ominous is the raven, while others attribute its presence to mean good fortune. The most common connect that most people seem to find with ravens is that with death. Overlooked, however, are the ties that the raven has with wisdom and a greater meaning. Elucidate it in a manner you deem fit, and find the perfect tattoo from our collection. One for the blue skies, one for the lovers and most definitely one of your warm hearts out there Ravenous Folk tattoo designs.
1. Life and death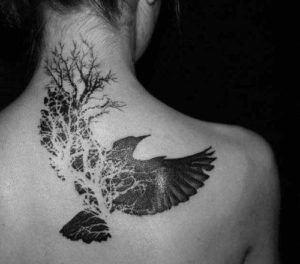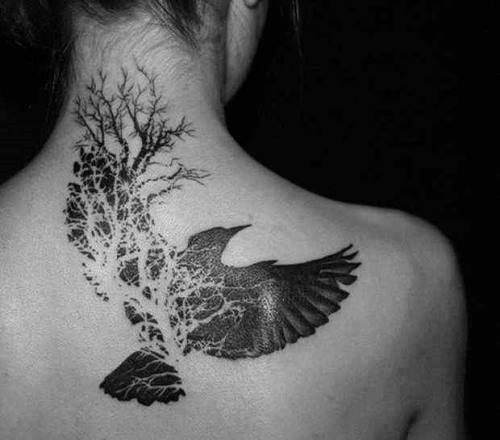 This tattoo is an existential take on life after death if you look at it the way we do. While the raven is often symbolized with death, here comes a tattoo of a raven from which a tree emerges. The roots of the tree run deep into the wing of the raven. This could mean that once a life is lost, part of it dwells so as to give rise to new life. This tattoo is all too realistic and meaningful at the same time.
2. The Love Tie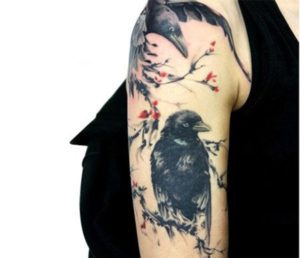 This tattoo smashes all stereotypes that might hover over ravens. Essentially a symbol of love here we see two ravens one in awe of the other. Add to this magical little picture budding flower and this is picture perfect. Should you fall in love with this tattoo, ink it as soon as you possibly can. Relive this dream story every time you feast your eyes on this tattoo.
3. Nevermore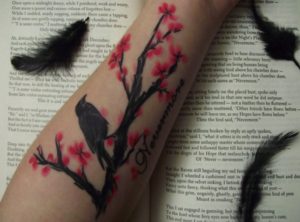 This tattoo signifies letting go of something or someone close to you. Doesn't necessarily need to signify death, but it has more to do with setting someone free. The blossoming flowers are an indication of good times up ahead despite the inherent loss that you seem to be faced with. Tattoos have been known to be sources of support at grave difficulties. If you are one of those people who find resonance with this tattoo then be sure to get it in ink!
4. Watermark Raven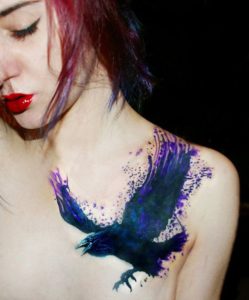 For all of you who like a splash of color in you tattoo, resort to this one. Tie it to mean that you're the dark horse, in this case raven, emerging from the water. Spread your wings and fly, soar like there's no tomorrow. The detail that this tattoo entails is brilliant. Say it with ink by your shoulder and you have yourself a sure fire winner.
5. Caw Caw!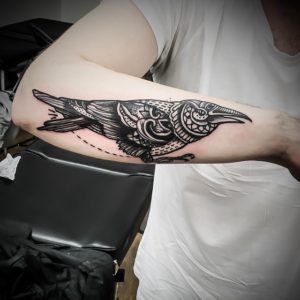 Buff arms that look a little empty are the perfect canvas for this brilliant tattoo. Take what you would like from it, but it would appear like all eyes are on you, if you know what we mean! Keeping it simple to shades of black and white, you really can't go wrong with this one tattoo.
6. These wings were made to fly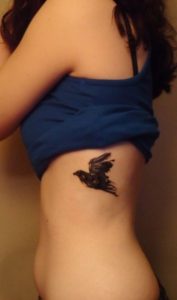 If you don't want to go all in with a tattoo, you can opt for one which is small yet effective. Let your wings spread so you can soar to the nearest shore. Get it by the side of your ribs and sport your favourite crop top. We guarantee those wings aren't going to be contained by your ensemble!
7. Another feat!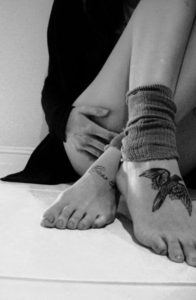 Worried that no one can see your tattoo? Don't worry, get one on your feet. This way there's no getting past your gorgeous tattoo. You could also add in your favourite quote so that everytime you look at it, you're reminded of what the tattoo signifies.
Pick your favorite and book an appointment at the nearest tattoo parlour near you. Say it with ink and don't let that needle scare you away.