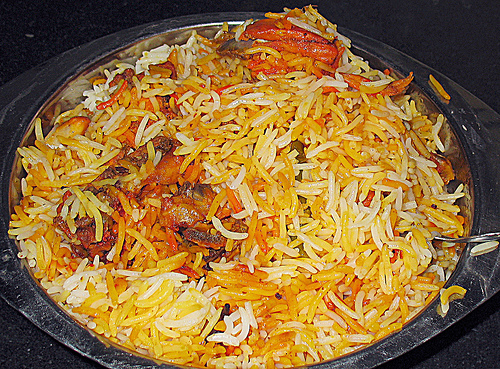 Muslim Style Chicken Biryani Recipe
Biryani is truly most celestial dish of all non-veg recipes. Muslims are expert in making delicious biryani.
The Muslim Style Chicken Biryani recipe tastes outstanding, fragrant, non-greasy yet finger-licking good with delicious flavor. If you are a Non Vegetarian, you might have tasted this in any Muslim functions.
My favourite dish is chicken biryani so I never ever miss a chance to attend the Muslim wedding and enjoy this genuine taste.
So now i am sharing Muslim Style Chicken Biryani recipe with you. I hope you will try and enjoy the most flavorful Biryani.
Check out this easy recipe & enjoy the comfortable taste ..!
Ingredients to prepare Muslim Style Chicken Biryani Recipe:
Basmati Rice : 2 cups
Chicken with bone : ½ kg
Ginger : small piece
Garlic : 5
Green chilly : 2
Oil : 2 tbsp
Ghee : 2 tbsp
Cloves : 3 to 4
Cinnamon : 1 " piece
Bay leaf : 2
Star anise : 1
Cardamom : 2 to 3
Onion : 2
Coriander : finely chopped ½ cup
Yoghurt : ½ cup
Turmeric pwd : a pinch
Salt to taste
To Marinate Chicken:
Lemon juice : 1 tsp
Turmeric powder : a pinch
Red chilly powder : ½ tsp
Salt to taste
Method to prepare Muslim Style Chicken Biryani Recipe:
Wash and soak the Basmati rice in water for 5 mins, drain and set aside.
Clean and wash the chicken pieces.
Apply lemon juice, salt, turmeric powder and red chilly powder for chicken pieces and keep aside to marinate.
Make a paste of ginger, garlic and green chilly.
Take a deep bottomed pan, heat oil and ghee in it.
When oil is hot, add cloves, cinnamon, bay leaf, star anise & cardamom.
Add finely chopped onions and fry until it turns to golden brown.
Now add freshly ground paste ( ginger, garlic and green chilly paste ).
Fry till the raw aroma disappears.
Now add the chopped coriander leaves.
Mix well and sauté for a minute.
Add chicken pieces and sauté until chicken absorbs the masala.
Now add the curd, turmeric powder, salt and cook until oil separates out.
Add 4 cups of water and combine well.
Check for salt and spicy seasonings, leave it till water come to boil.
Now add the basmati rice.
Gently stir in contents to combine well.
Cover the pan with lid, reduce the flame to medium.
Pressure cook for one whistle and simmer for 5 to 7 mins.
Once the pressure goes off, fluff the rice gently.
Garnish with fresh corriander leaves.
Now Muslim Style Chicken Biryani Recipe is ready to Serve & Enjoy the delicious & luxurious Muslim's Chicken Biryani with onion raitha.
Photo credit: NA.dir / Foter / CC BY-NC-ND