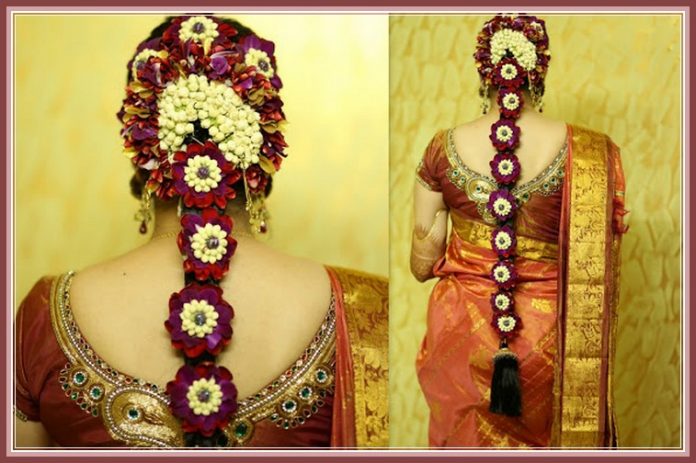 Most Beautiful South Indian wedding bridal hairstyles for you to survey. The traditional bun or regular is an excellent option for early morning muhurta times, not only for family & friends but the bride herself also. It protects time at the beginning of the morning, & honestly, after all, those flowers & garlands and other head things no one sees a bride's hairstyle. Below explained regarding South Indian wedding hairstyles for Long Hair.
South Indian wedding hairstyles for Long Hair
The South Indian bride has unusually married without jasmine flowers in her hair. If you are not interested in having the hair stylist with you on that morning, do not fuss. There is no shortage of them at South Indian weddings anyway
1. Classic gold hair with white flowers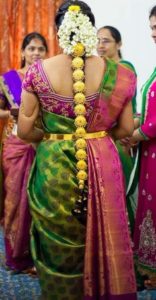 It looks very simple and is ready made designed with classic jewelry. This hair just attached with your long hair and jasmine flowers are decorated at the top of the hair as you can observe in the above picture.
2. Bridal style with white & orange hair chain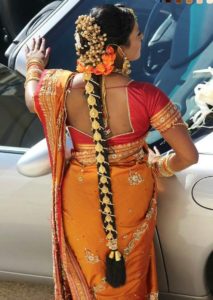 It looks dazzling and cheery colors as you can see in the above picture.  It has designed with gold with chains and at the top decorated with the orange color that will match if your wedding saree is in red color.
3. Long wedding braid: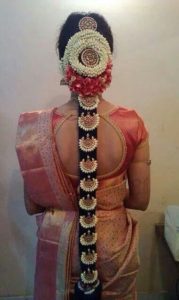 How pretty it looks! Isn't it. It looks awesome for the bride as it was linked with chains as well as decorated with flowers also. It fits for all type of sarees. You can also try these DIY easy hairstyles for girls.
4. Long chain with jewellery: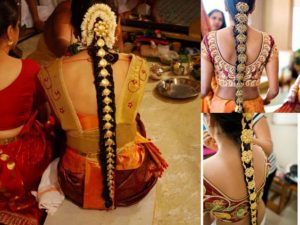 This style is modern South Indian Wedding hairstyle for long hair. It looks stunning and beautiful with simple design work.
5. Bun style with fresh jasmine: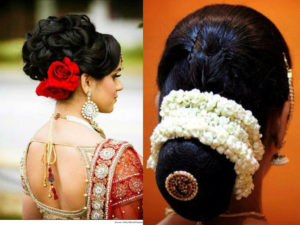 South Indian wedding hairstyle with the simple bun and decorated with fresh jasmine flowers & fifties style backcombed crown. These Classic jasmine or malli poo to complement the backcombed crown.
6. Excellent Jada long hairstyle: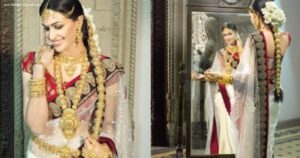 This type of hairstyle used for the more elaborate look. It is fully designed with gold jewellery.
7. Jasmine flower jada

Long hair decorated with fresh jasmine flowers and diamond studded lotus hair jewellery. See how simple it looks and natural with fresh flowers.
8. Kerala wedding long chain hairstyle with jewels: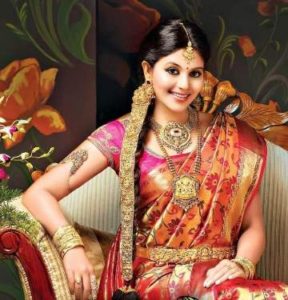 This hairstyle doesn't require any flowers as it has designed with only gold jewelry and looks pretty for all saree types.
9. Layered rings of flowers: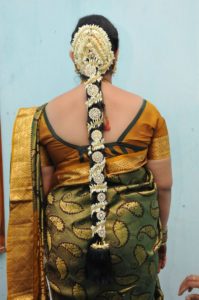 This hairstyle suits for for long and silky hair. It is one of the south Indian bride hairstyle for long hair.
10. Kannada long braid: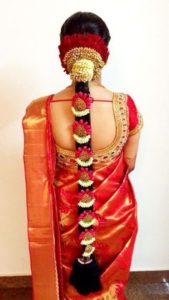 This type of design actually followed by Kannada people and looks very gorgeous for  all saree colours. It suits for long hair people and decorated with braid flower net decoration & jewellery
11. Unique Kerala South Indian wedding hairstyle: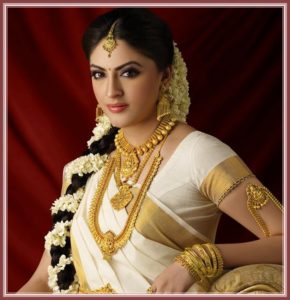 It has decorated with jasmine flowers are just folded along the hair. It is very easy to wear that gives stunning look.
12: Traditional and ornate style: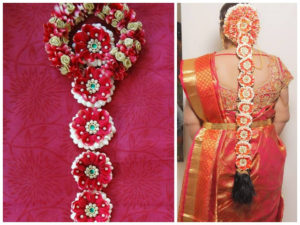 South Indian bridal hairstyle with hair jewellery and also decorated with a different flowers.
13. Simple updo braid hairstyles for long hair with simple chain: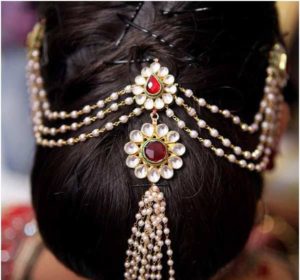 14. Simple bun hairstyle with stars: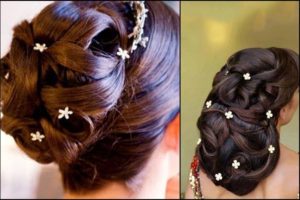 These bun hairstyles or updo hairstyles for long hair looks pretty and beautiful for receptions as well as those who marry's in court or Registration office. Yes, of course it also looks great for traditional marriages.