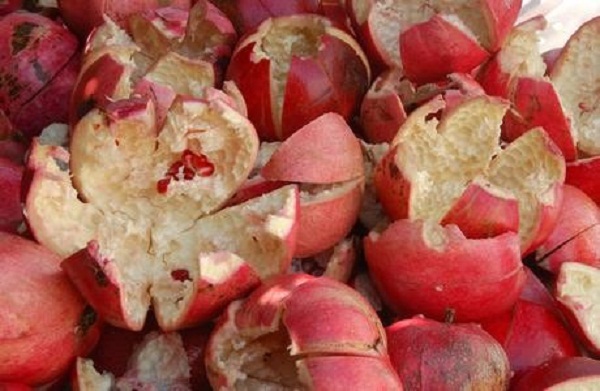 Hidden Beauty Benefits Of Pomegranate Peel
Pomegranates have known for its alluring taste & colour; it has a plethora of health benefits to reap. But, not many of us are conscious of the benefits of its peel. We frequently discard the skin of pomegranates. But this skin is blessed with numerous beauty benefits. It can use a sunscreen, moisturiser & facial scrub. The antioxidants & vitamins present in this peel deeply supports the skin and hair.
The best method to use it is just to dry the skin, grind it and store it in a container for future use. In today's article, we at yabibo have posted out benefits of pomegranate on skin & hair. Read on to know moreHidden Beauty Benefits Of Pomegranate Peel.
Prevents Acne
The healing quality of pomegranate peel fights acne and pimples. Since this peel is rich in antioxidants, it keeps acne causing bacteria at bay. Add few drops lemon to dried pomegranate powder and apply it to your skin. Rinse after 20 minutes.
Combats All Signs Of Aging
Pomegranate powder prevents the breakdown of collagen and regenerates new cells, thereby it prevents an appearance of wrinkles and fine lines. Mix pomegranate powder with the proper amount of milk. Apply this mixture on face and rinse after some time.
Natural Sunscreen
Pomegranate powder also works as an effective sunscreen. It has sun blocking agents that protect the skin from harmful UV rays.
Prevents Skin Cancer
According to a recent research, pomegranate peels contains agents who fight against skin cancer.
Healthy Hair
Pomegranate peel powder is also used to combat hair loss and prevent dandruff. It promotes healthy hair growth too.
Facial Scrub
Pomegranate peel powder acts as a natural facial scrub. It removes all the dead skin, black and white heads from the face.
Effective Moisturiser
Pomegranate powder hydrates the skin. It restores the pH balance of the skin and makes the skin soft. Mix pomegranate powder with some amount of yoghurt. Apply this mixture on your face and rinse after some time.