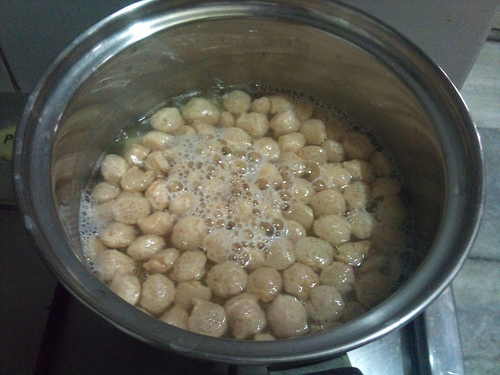 Healthy Breakfast Recipe of Soya Parathas
Paratha is one of the best breakfast recipe to try in the morning. Be it the stuffed parathas or the plain parathas, all the varieties of this Indian bread tastes simply delicious. So, let us make these yummy breakfast delights by adding a healthy twist to it. Soybean has been found to have a number of health benefits. It is a great source of protein and contains all the essential amino acids. It is also a wonder ingredient for your skin. So, here we have a nutritious breakfast recipe of soya parathas which are delicious and filling at the same time. Soya parathas are an excellent option for your kids' lunch box too.
So, check out the tasty and healthy breakfast recipe of soya parathas and give it a try.
Ingredients to prepare healthy breakfast recipe of soya parathas
Cabbage- ½ cup (grated and steamed)
Yellow moong dal- ¼ cup (boiled)
Soya chunks- ¼ cup (powdered)
Potato- 1 (boiled and mashed)
Green chilli paste- 1tsp
Turmeric powder- 1tsp
Cumin seeds- 1tsp Oil- 3tbsp
Coriander leaves- 1tbsp (chopped)
Salt- as per taste
Whole wheat flour- 2 cups
Water- 1 cup
Procedure to prepare healthy breakfast recipe of soya parathas
Heat 1 tablespoon of oil in a pan and add the cumin seeds. Fry for a minute.
Add steamed cabbage and the moong dal. Fry for 3 to 4 minutes on medium flame.
Add soy chunks powder, mashed potato and saute for 4-5 minutes on medium flame.
Add the green chilli paste, turmeric powder, salt, coriander leaves and mix well. Cook for 2 more minutes.
Switch off flame and let the stuffing cool down completely.
Knead a semi soft dough with the wheat flour, salt and water.
Divide the dough into 4-5 equal parts.
Roll out one portion of the dough into a small circle.
Place the stuffing in the centre and then seal it tightly from all the sides. Pinch the edges together tightly.
Now flatten the ball between your palms and roll out chapatis out of it carefully.
Heat a tawa and place the paratha on it. Add a little oil, spreading it on all the sides.
Fry for 3-4 minutes on medium flame till both the sides turn golden brown.
Once done, transfer the paratha to a serving plate.
Repeat the same procedure with the rest of the dough to make more parathas. Your soya paratha is ready to be served. Enjoy this yummy breakfast recipe with ketchup or side dish of your choice.
Photo credit: Bames Live / Source / CC BY-NC-SA