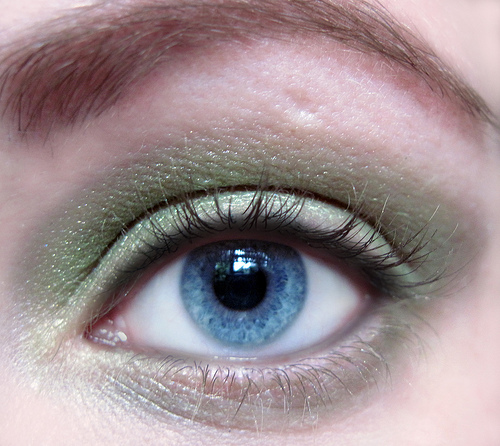 Get Sparkling Eyes Naturally
Eyes are the most important part of your face. It compliments and improves your beauty. The beauty of women lies in her eyes as this is the doorway to her heart. All women have naturally got beautiful and attractive eyes and furthermore they can enhance the beauty of their precious eyes or Get Sparkling Eyes Naturally by these few simple tips and home remedies.
You can get sparkling bright eyes by these natural remedies. Apart from these natural remedies you must eat healthy foods for eyes and do some eye exercises to make them look shining and beautiful. One more fact about eyes is that, it is one of the body parts that does not shrink or decrease in size with the age advancing. So no matter what your age is you can always make your eyes bright and shining. Makeup artists also focus more on your eyes when doing makeup as they are the most attractive part of your face.
So let's share with you how to enhance your eye's beauty without makeup by using these simple home remedies to make eyes attractive. These natural ways to make eyes beautiful will also remove impurities from eyes and soothes them to relieve strain and redness. Following are some of the natural homemade eye masks to make your eyes shiny, bright and beautiful at home.
Cucumber
It adds life to your tired and swollen eyes. It is rich in water content and thus also hydrates the shrinked skin of eyes. Place a cucumber in a fridge and then make it's thin slices. Put these cold slices over your eyes for just 10 minutes and relax. This will make your eyes shining and bright.
Olive Oil And Tea Bag
To make eyes sparkle naturally use green tea and black tea bags as they contain bioflavonoids. These substances in tea reduces puffiness, swelling and sagged eyes. It makes your eyes look bigger and bright. All you need to do is first apply some olive oil on the upper and lower surface of your eyes. Keep the used tea bags in fridge. Then take out the tea bags and put them on your eyes and relax.
Apple Juice
Soak a thick cotton pad in pure apple juice for two minutes. Put this soaked pad over your eyes for 10 minutes. You can again repeat the procedure for five or more minutes. The vitamins present in apple has many benefits for your eyes. It will make your eyes relaxed and they will shine. Apple also prevents early eye wrinkles.
Milk
For this you have to first refrigerate the milk to make it ice cold. Then put some cotton balls inside the cold milk for soaking. Lie down in a relaxed position and put these cotton balls soaked in milk over your closed eyes. This is a best natural remedy to reduce puffiness and tiredness of eyes.
Potato Slices
Cut a potato in small slices and then keep it over your closed eyes. Potatoes not only removes dark circles under your eyes but will also hydrate them and remove swelling. The nutrients present in the potato are absorbed through the skin under your eyes to make them healthy and sparkling.
Rose Water
First gently massage your eyes with castor oil and then soak cotton balls in rose water. Put these soaked cotton balls over your closed eyes. Don't squeeze the excess rose water from the cotton balls. This will make your eyes brighter and large as all puffiness will immediately subside.
Strawberry
Cut strawberries into slices after refrigerating them. Put the slices over your eyes for 10 minutes and relax. The vitamins present in it will make your eyes bright and healthy. They will also alleviate puffiness and relax tired eyes. This is one of the best home remedies to make eyes attractive and shiny.
Mint Leaves And Almond Oil
Grind some mint leaves, add few drops of almond oil and one teaspoon of honey to it. Put this paste generously over the closed eyes. Relax and let it sit on your eyes for 10 minutes. It will relax your eyes and make them shining.
Amla
Soak a dry amla in a cup of water for 12 hours. Afterwards wash your eyes with this amla water. You can also soak a cotton ball and keep it over your eyes for five minutes. It is rich in vitamin C which heals swollen and tired eyes. This is also one of the best tips to make your eyes shiny without makeup.
Photo credit: The Snarky Princess / Chairs Hunter / CC BY-ND