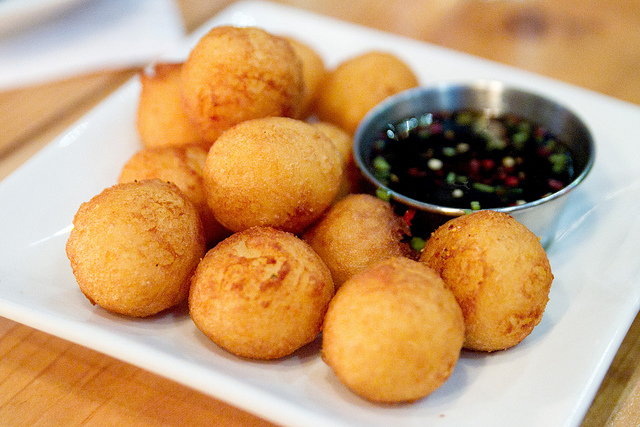 Hi friends, Today we want to share an awesome snack Potato Croquette, which makes a great company to our evening hot cuppa chai. It takes just a little effort to make these tempting balls.
In this Fried Potato Balls recipe, boiled and mashed potatoes are blend with flavourful spices, coated with the bread crumbs and deep fried till turns to golden. It tastes crispy on outside and soft and creamy on the inside.
Check out this easy Fried Potato Balls recipe to make this crunchy potato croquettes..:)
Ingredients to prepare Fried Potato Balls recipe:
Potatoes : 2
Bread crumbs : 1 cup
Pepper powder : ½ tsp
Coriander leaves chopped : 2 tbsp
Onion slices : 2 tbsp
Amchur pwd : ¼ tsp
Red chilly flakes : ¼ to ½ tsp
Cumin powder : ¼ tsp
Corn flour : 2 tbsp
Salt to taste
Oil to deep fry
Method to prepare Fried Potato Balls recipe:
Wash, slice and pressure cook the potatoes till become soft.
Peel off the skin and mash it into fine.
Transfer it to the mixing bowl.
Add salt, white or black pepper powder, finely chopped coriander leaves, onion slices, amchur powder, red chilly flakes and cumin powder.
Add bread crumbs and combine. Bread crumps are used to take away the extra moisture from the dough also you can use plain bread crumps
Take small portion of dough and roll it to balls. It is optional that can also stuff small piece of cheese inside the ball and roll it.
Dip it into the corn flour paste. In a cup, take one tbsp of corn flour, add sufficient water and make it paste.
Roll it in bread crumps.
Repeat the same for all the dough.
Heat oil in the fry pan.
Drop the potato balls gently in the hot oil.
After a minute, keep the flame in low medium and deep fry till potato balls turn golden and crisp.
Drain it in kitchen towel or tissue.
Serve hot with your favorite dip. We love to taste it with tomato ketchup and mint chutney. Enjoy…!!!
Photo credit: roboppy / Foter / CC BY-NC-ND