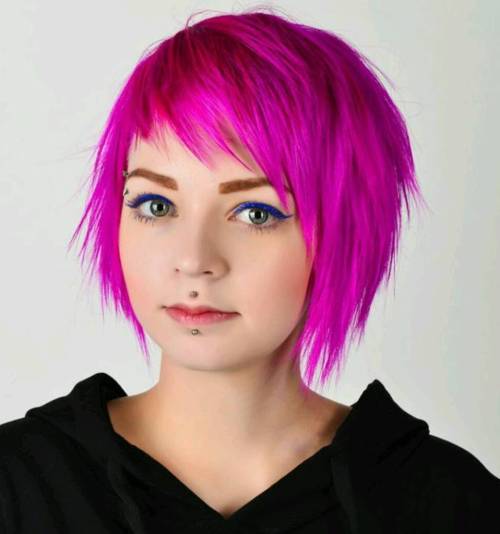 If there's one hairstyle that never really went out of style, it's emo. Attribute that to the fact that the inflections of it are aplenty, or just that it's a very chic look to sport, we don't know. But, by the looks of it, emo is here to stay and we're showing you why. Read Emo Looks that Can Never Go Wrong.
1. The Layered Approach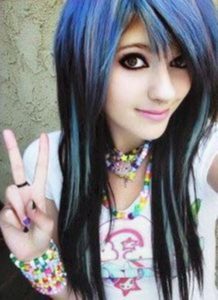 When it comes to emo hairstyles, there's no dearth with regard to experimentation. This hairstyle is a testament to the aforementioned statement. Puffy at the top, and more streamlined at the bottom, this hairstyle is apt for any face chat. Completely blue at the crown, sneaky blue strands peep from behind the luscious black locks at the side. The blue and black hair combo makes this look very casual and chic.
2. Emo's Take on the Fishtail Braid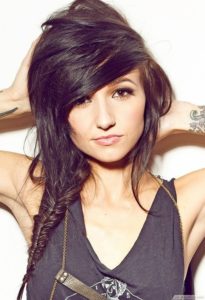 No longer do you have to succumb to the stereotypes that deem straight hair as the norm for emo haircuts. Layered and fluffy on the top, this hairstyle ends majestically in a fish braid. It would seem like the best of both worlds are in unison. This emo hairstyle is especially suited to those of you with thick hair as the layers at the top suggest. Add in a few streaks of color if you wish to ramp up this look.
3. Bubblegum Pop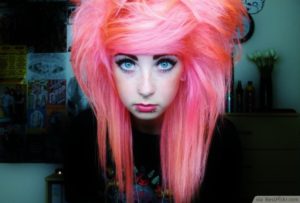 Making a statement is what this look is all about. Teased hair at the top, by which we mean, Really Teased, makes for an explosive look that is very hard to contain. While opting for this hairstyle, make sure that you do not incorporate too many layers at the bottom lest you end up with stringy ends. Every girl's favorite hue, making its way to your crowning glory. It's cute and peppy at the same time, so, Why Not?
4. Color Me Green
You don't have to give in to the whims of your straightener anymore with this emo hairstyle. Step into the limelight as you step out with this glorious look. If you naturally have wavy hair, then this one is for you. You can let your natural hair work its magic while ticking the box for the emo look at the same time. Perfect the mermaid look with an eyeshadow that matches your hair color and you are good to go.
5. Crimson Tides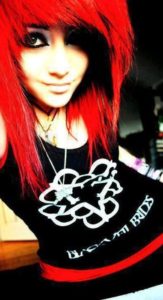 Paint the town red, quite literally with this next look. If your hair lies on the thinner side, then this is one look you have to experiment with. Bangs are swept to a side while remaining true to the emo look that we've come to know. Medium length hair is ideal, though there is room for further experimentation. The look brings out the rebel within you, so dare to don this look!
6. Pieces of Me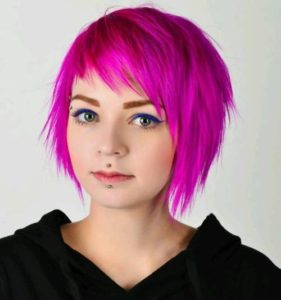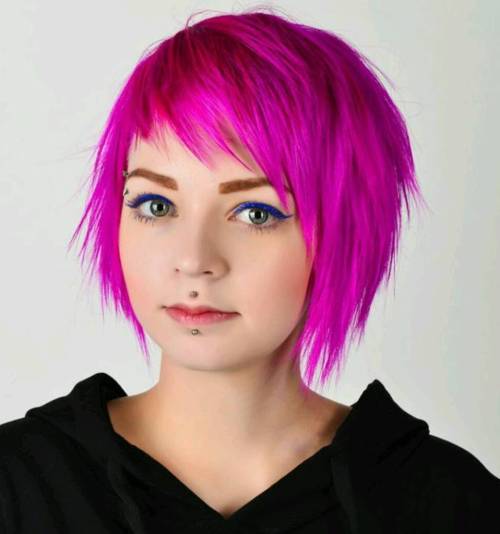 Piecey haircuts have been making their way to the red carpet for ages now. So, why let Tinseltown's hotties be the only ones to sport them? Spice things up with this bright orchid hued emo hairstyle. The chunky bangs make quite the statement that deviates from the impact that traditional bangs leave. Uneven and layered, this hairstyle ensures that the best features of your visage are highlighted.
7. Au Naturale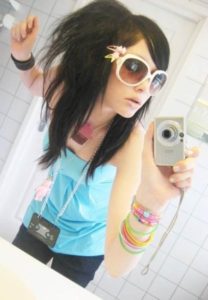 If you like to keep it on the low, then we have just the look for you. No need for bright colored hair because there's nothing more appealing than flaunting your natural mane. Tease your hair at the top so that it invokes a warm fuzzy feeling in everyone that lays eyes on you.
Twist the general norm that you seem to have had about emo looks with these hairstyles. Play it loud and go gaga over your new hairdo!