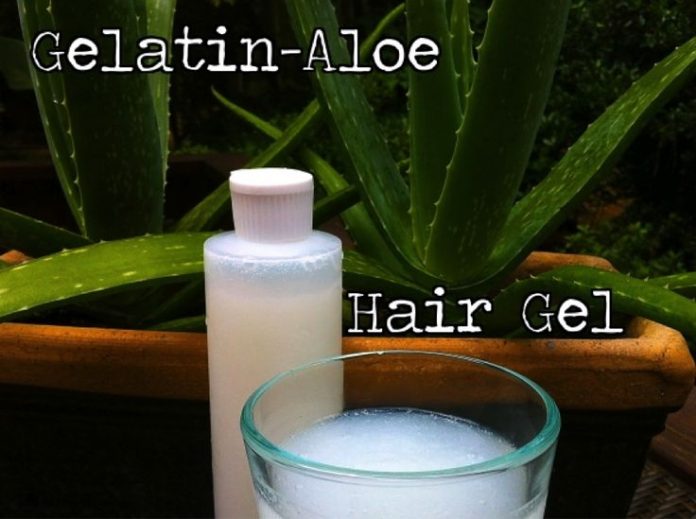 You can make your own styling gel without using the ones available on the market. Homemade hair gel is easy to make and without side effects.
The use of styling products such as hair gel is common today especially among young people. For a nice and charming appearance, a good vinaigrette alone is incomplete without the elegant hair.
Stylish hair without gel for the hair is not an easy task because you can give any style to the hair by using a hair gel. Have you ever wondered about the side effects of hair gel or does hair gel cause hair loss?
In this article, we will show you How To Prepare Hair Gel Naturally?
Have you ever looked for safer alternatives for hair gel? Although most of you use cosmetic gel without knowing its harmful effects on your hair.
Now that you have been highlighted with all the chemicals used in hair gels, you are probably looking for safer and natural alternatives for hair gels.
There are many good natural alternatives to cosmetic hair gel that have no side effects on your hair. These alternatives have zero or less amount of harmful ingredients.
Gelatin natural hair gel:
Coming to the first gelatin of natural hair gel, it can be used as an alternative to the cosmetic hair gel. As it is natural, it has no negative effect on your hair. It is made from collagen that includes proteins found in the skin, connective tissue and bones of mammals.
You can style your hair easily because gelatin is available in most of your homes. Styling your hair with gelatin is more effective because it coats each wick and stays all day without harmful effects.
How to make gelatin natural hair gel at home?
Follow the below steps to prepare natural hair gel from gelatin.
Ingredients:
Gelatin : 1 teaspoon
Warm water : 1 cup
Procedure
Take the fresh gelatin and  Stir gelatin with warm water
Wait until it gets thickened
Now your natural gelatin gel is ready for use
This gel will be good to use up to 7 days if kept in the refrigerator
Aloe Vera Natural Hair Gel
This is not new because it was used in ancient times to style the hair. It is a well-known plant that contains no harmful elements. Natural Aloe Vera Gel contains 0% alcohol content, and no added fragrance that makes our hair free from dehydration, allergies and dandruff.
In some cases it is used in moisturizing therapies like sunburn and skin irritation which makes it much safer than cosmetic hair gels. It helps your hair become stronger and healthier by providing the necessary moisturizing vitamins. You can quickly make natural gel of aloe vera from the leaves of aloe vera.
How to make aloe vera natural gel home?
Collect leaves of aloe vera plants
Now press the liquid of the leaves
Your 100% natural Aloe vera gel is ready for styling.
Flax Seed Natural Hair Gel
Do you want thick, strong, shiny hair? Then, flax seeds can help you get that. You may have heard other names of flaxseeds, namely, jawas, flaxseed, and alsi. These seeds consist of several substances useful for hair and scalp such as vitamin B1, copper, manganese, omega-3 and dietary fiber.
Omega-3 is a moisture-rich acid that helps your hair / scalp against the problem of dry and rough hairs. Omega-3 also increases the elasticity of your hair, which means less damage or loss of hair. Flax seeds contain other essential vitamins and minerals for your hair that promote stronger, healthier hair growth.
It is more commonly used to produce natural hair gel, namely the natural flex seed gel which is safer alternatives to the cosmetic hair product. One more positive thing about flax seed gel is that it can be done at home easily by following given steps.
How to prepare flax seeds natural gel home?
Ingredients
Flaxseeds: 1/4 cup
Water : 4 cups
Burner
Procedure:
Take 1/4 cup of flaxseeds
Boil flaxseeds into 4 cups(1 liter) of water
Stir the mixture frequently to dissolve properly
Cook it for 40 minutes
Now turn off the burner and cool it for one hour
Your flax seeds natural is ready to use.