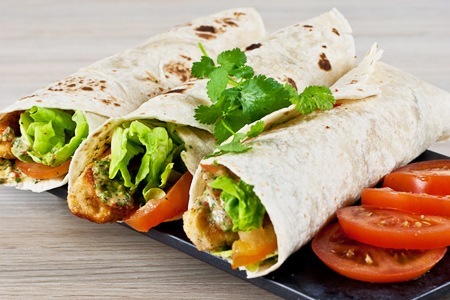 Delicious Capsicum Wrap Recipe For Breakfast
Every morning has always dreaded. After the weekend, feel totally indifferent to get up from the bed and get ready for school or work. Thinking of cooking up the breakfast makes the morning even more dreadful. But surely one cannot miss out on the most significant meal of the day. So, you just require to think smart.
Wraps & Rolls are always easy to prepare and carry. Even if you are getting late for work, you can easily take these wraps in the hand & go to office munching your way. If you have some leftover chapatis from the previous day, then you can quickly make this breakfast recipe in minutes. So, here is an easy & delicious capsicum wrap recipe to ease out your worry about breakfast. This recipe is simple, quick and tasty.
Take a look at the recipe of the delicious capsicum wrap recipe and do give it a try.
Ingredients to prepare delicious capsicum wrap recipe
Whole wheat flour- 2 cups
Capsicum- 2 (large, sliced)
Tomatoes- 2 (medium, chopped)
Onion- 1 (small, chopped)
Green chillies- 2 (chopped)
Black pepper powder- 1tsp
Cumin powder- 1tsp
Turmeric powder- ½ tsp
Tomato ketchup- 1tbsp
Salt- as per taste
Oil- 2tbsp
Water- 2 cups
Method to prepare delicious capsicum wrap recipe
1. Knead a semi-soft dough out of the whole wheat flour with salt & about one cup of water.
2. Shape small balls out of the dough & roll out chapatis and keep them aside.
3. Heat one tablespoon of oil in a pan and add onion. Fry for 3 to 4 minutes on the medium flame.
4. Add the capsicum slices, salt, pepper, cumin powder, turmeric powder and cook for 5 min.
5. Add tomatoes, green chillies & tomato ketchup. Fry for another 2 minutes.
6. Now add about half of a cup of water, cover & cook for 5 min.
7. Once done, switch off the flame and let it cool.
8. Now heat a two and put a rolled out chapatis on it. Add about the teaspoon of oil coating it on all the sides of chapati.
9. Once the side turns brownish, exchange the chapati to the other side and fry for 2 minutes.
10. Once done, remove the chapati from the two & place it on a plate.
11. Put the capsicum filling on one side of the chapati and roll it with your fingers.
12. Cover it with silver foil if required.
13. Repeat the procedure to make more wraps. Delicious capsicum wraps recipe are ready to eat. Serve them with the ketchup of choice.
Photo credit : Google search