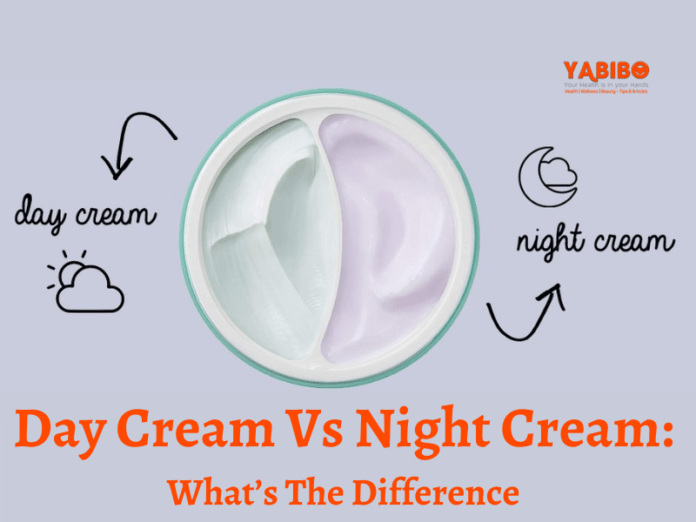 Night cream vs day cream is something that those interested in ensuring their skin is soft and smooth need to look into. Day cream and night cream are good for the skin tone.
Skincare routine does entail a day or night cream on one's beauty shelf. Is there a difference between the two? The question that arises in the mind of beauty conscious person is night cream vs day cream- what does it involve?
Judging by their respective names, the day cream happens to be a skincare product made use of during the day while night cream is a skincare product that is used during the night. The main function of both creams is of course to hydrate and make the skin soft and smooth. Although some people feel that these products can be used interchangeably, there is no doubt differ in their ingredients, and the effects they create on a person's skin. Night cream vs day cream needs to be looked into in a proper perspective to appreciate their intrinsic value.
What are day creams?
Day creams are usually multitasking products that moisturize one's skin, wear well under makeup, and sometimes also contain SPF. Since a person is more exposed to the sun during the day, day creams also exclude active ingredients such as retinol, glycolic acid, or alpha hydroxy acids, which can rather irritate the skin when exposed to the sun.
What are night creams?
Night creams do have a heavier texture to deeply moisturize skin while a person is sleeping. The skin repairs itself the most at night, so night creams often contain active ingredients such as acids and retinol that promote skin cell turnover.
It is good to be aware of the ingredients that are present in day cream and night cream.
Can day creams be used at night and vice versa?
It is okay to use a night cream during the day and vice versa. The biggest difference noticed is the sensitivity to the sun or a heavy and greasy feeling while making use of a night cream during the day. In case of a phase of a dry spell concerning one's skin, it is better to apply the night cream during the day as well.
What is the main difference between day cream and night cream?  
The main difference between day cream and night cream is the texture and ingredients. The day cream is of course a lighter cream that contains SPF and lightening agents such as vitamin C while the night cream has a richer and heavier cream element in it and has active ingredients such as retinol and glycolic acid.
Day creams are being formulated by SPF to provide daily sun protection. Day creams are indeed developed to enable proper makeup. A good daytime moisturizer will not clump or even peel under makeup, It will rather make a smooth, perfectly hydrated canvas that helps the application of foundation, concealer, blush, and other make-up tricks that a person tries out.
Night creams on the other hand are more luxurious upon application, and thus help rejuvenate or moisturize or perhaps smoothen out the skin all night long. The formula is of course thicker than the standard day cream and also does not contain SPF. Night cream also tends is equipped with anti-aging ingredients such as retinol and glycolic acid which make the skin more sensitive to light sources.
Conclusion
Thus rather than avoiding lights all day, such products do wonders overnight. Yet it is important to keep a vigilant eye on the presence of SPF in the daytime product that is being used after the removal of the night cream. These potent players keep working after the face is washed up.