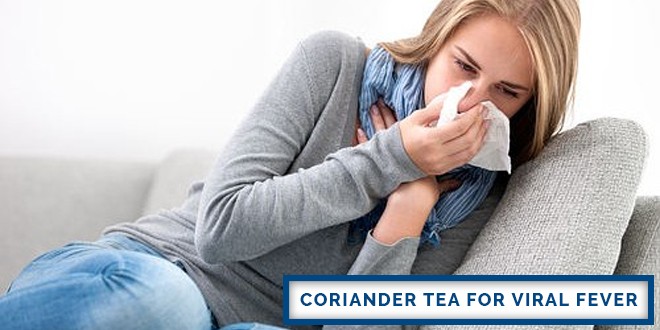 Coriander Tea for Viral Fever
We all welcome rain with an open heart! Many of us, especially kids, leap at the opportunity to get drenched in the pitter-patter drops, that bring with them joy and unlimited fun! But, with the rains the temperature dips and the moist that accompanies storms, makes a conducive environment for viruses to thrive!
While you can catch a viral fever anytime of the year, you are more susceptible to contracting one during monsoon. So, how do you treat a viral illness- real quick? Before, it passes on the glum and infection to others in the family.
Over the counter drugs such as antibiotics are prescribed for treating viral infection. However, these medications cause side effects. You can avoid the toxic impact of these drugs by trying out natural remedies using ingredients readily available in your kitchen. Here is Coriander Tea for Viral Fever.
Coriander Tea for Viral Fever
Coriander-The Oldest and the Best
According to the reports published in the Life Extension magazine, coriander is one of the oldest plants that were also used by the Greeks and Romans. The leaves of coriander have packed with lots of nutrients and the health experts recommend its use in the daily diet to add more health promoting properties and aroma to your dishes.
Rich in Vitamin K
Coriander has loaded with vitamin K. Just 2 teaspoons of these leaves supply around 31 micrograms of vitamin K in the body which is almost one-third of the daily need of an adult. The vitamin promotes proper blood clotting and formation of healthy bones.
Quercetin Power
The coriander leaves contain phytonutrient quercetin, which is a flavonoid commonly found in plant foods. Quercetin attributes anti-inflammatory and antioxidant properties to this herb. An article published in the Currents Sports Medicine Reports in 2009 says that quercetin plays a remarkable role in enhancing physical performance in military personnel and athletes. It also boosts immunity and empowers them against various diseases and infections including viral infection.
Apart from quercetin and vitamin K, the coriander leaves and seeds are loaded with lots of health benefitting antibiotic compounds and volatile oils that provide an adequate defence against viral infection.
Coriander Tea Preparation Method Using Coriander Leaves
Take a handful of fresh and finely chopped coriander leaves.
Put them in a tea infuser and add boiling water.
Let it steep for 10 – 15 minutes
It will release the properties and flavour of coriander
Strain & add honey or sugar to taste according to your preference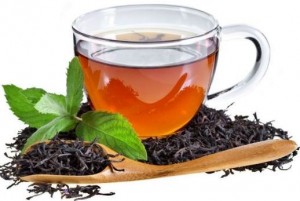 The taste of coriander tea might be repelling or pleasing to you depending upon your genetic disposition and taste buds. However, to most it seems to be refreshing with a citrus-ey flavour. Usually, it suits everyone, but if you have been prescribed anticoagulants or other medications, you should consult your doctor before trying this remedy.
Coriander Tea Preparation Method Using Coriander Seeds
If you do not have a sprig of coriander in your refrigerator, there is no need to panic. You can prepare coriander tea using dried coriander seeds, which is equally valid, although the taste may not be as refreshing.
Take one glass of water
Add one tablespoon coriander seeds and boil for 5 minutes
Allow it to cool, drain and add sugar and milk.
It is an excellent drink for kids who love milk. You can use it as a flavoured milk for building up your immune system even if you do not have viral fever.
The above are the details about Coriander Tea for Viral Fever