Talk to any women about Maggam work and all they can think of are the rich and elegant sarees. Maggam work is a unique kind of embroidery work that gives the sarees a very luxurious and rich look. Most of these are hand sewed and are a popular choice when it comes to sarees, blouses, lehengas etc. Read about Best Maggam Work Border Designs on Sarees For You
In this article, we will learn about the trending designs of Maggam work and one can pick the design they like based on their style and taste. It is not hard to attain that gorgeous look when you are wearing a saree or a lehenga that was appealing Maggam work on it. Let us know learn more about various designs of Maggam embroidery.
Heavy work on the border of a saree: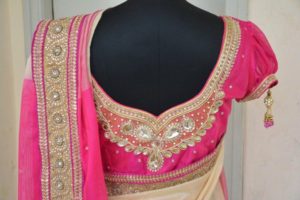 This can be termed as one of the best and the most trending of all the designs that can be seen on the sarees. In such a design, the Maggam work is added onto the saree border and this itself add a gorgeous look to any saree and transforms it into an ideal party wear. In such a design, the base has to be lighter and there is also a need for a border on both the sides. One can choose a floral design with the use of white or copper coloured beads to get the look right.
Saree with Maggam work all over: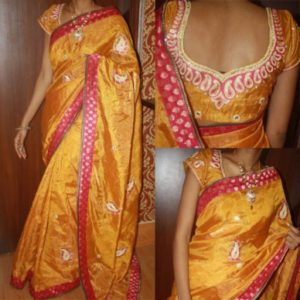 This is not only a trending design, but is also quite unique at the same time. The hand work in such a design is done all over the saree but it is placed rightly to provide it with an elegant look. The pallu is added with a slight heavier work and a similar kind of design is added all over the rest of the saree. One can use light colored beads and thread to make it look even more beautiful.
Maggam work on a bridal wear: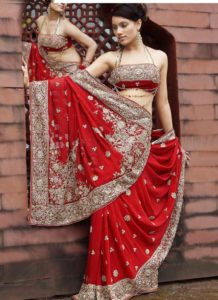 Maggam work is the most opted when it comes to bridal wear. A number of designers make use of Maggam work smartly to add that unique touch to the clothing. Be it a saree or a lehenga, the use of bright colours will make it stand out. One can add floral designs and heavy work on the pallu. The borders of the saree too can be matched well with the design on the pallu.
The combination of Maggam and cut work: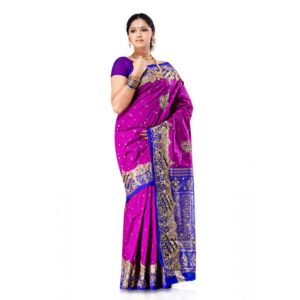 This is one unique design where cut work is used along with the Maggam work. The borders of the saree are first decorated using Maggam work. In most of the designs, the design choice is of floral and this kind of work can be mostly seen on pattu sarees.
These above mentioned are just some of the unique Maggam work designs that are quite popular. One can choose their own design and get the work done on their saree or lehenga based on their own choice of colours and beads. If you want to shine and stand out in the crowd, these the outfits with Maggam work are your ideal choice.