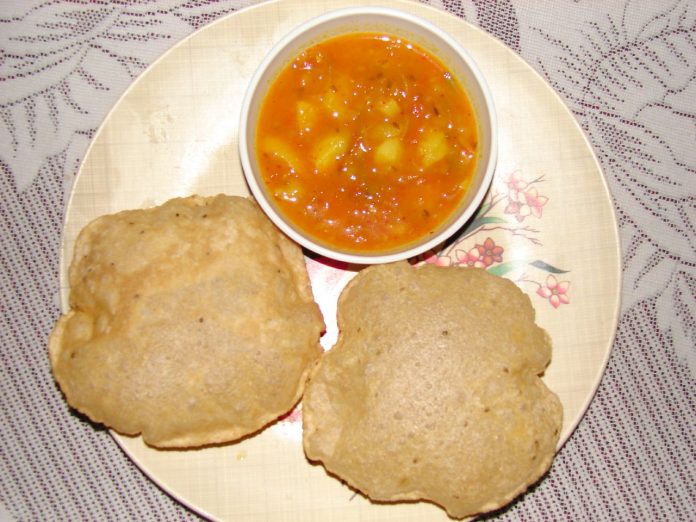 Besan Puri Recipe For Breakfast
You may have heard of besan laddos, which is quite very popular in the Northern parts of India. Today, with this very same ingredient, one of the best breakfast recipes we share with you is none other than the Besan puris. Besan puris is quite simple and easy to prepare as well. It is also a sheer delight for kids who tend to enjoy this magnificent treat.
Besan is one of the many ingredients which is much more preferred to than wheat or maida. It is healthy and a light ingredient which is also good in the digestion. If you have old people residing in your home, they will also enjoy this besan puri recipe for breakfast.
This is how you prepare besan puri recipe, Have a look on Besan Puri Recipe For Breakfast :
Ingredients to prepare Besan Puri Recipe For Breakfast
Besan flour – ½ cup
 Fennel Seeds – ½ tsp
Chill powder – 1tsp
Oil – 4-5 tbsp (while mixing)
Oil – 1 tsp ( cooking)
All purpose Flour – 1cup
Salt to taste Water – 1 cup
Procedure to prepare Besan Puri Recipe For Breakfast
In a deep bowl, place the besan flour, fennel seeds, chilli powder, salt and oil. Using your hands, gently mix the ingredients together. To make it into a fine powder, rub the besan flour between your palms.
Now add to the flour, three tablespoons of water. Mix the water well with the flour to make a dough. You can add more water to the flour if required be.
When the dough is ready, ratio out the dough equally into small balls. These small balls are then made into a cup shape. Now fill these cup shapes with one tablespoon of besan mix and seal it. Now roll the dough to make it into a thin roti.
When the dough is ready, heat a tava on a medium flame. Let the tava become hot and then place the thin roti on the tava. Wait for the besan puri to turn a little golden colour.
 When it turns a little golden, gently rub a little oil over the puri.
Keep turning the roti on both sides on the tava for it to cook well. Your besan puri is now ready to eat. What is different about this puri recipe is that it is not deep fried! You can enjoy this amazing besan puri along with green chutney or vegetable curry too.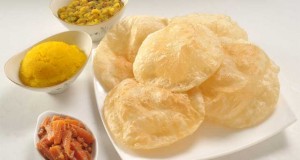 Photo credit: Ankur's / Foter / CC BY-ND