Rose Water is good for the skin and in summery days one can use it for a refreshed look. It keeps the skin hydrated and glowing at all times. It protects the skin.
Rosewater is a flavored water that is prepared by soaking rose petals in water. It has several benefits when it comes to skincare. It is suitable for all sorts of skin types that do include the most sensitive skin. Rosewater has indeed been a popular beauty ingredient since ancient times and known for its rejuvenating, soothing and calming properties. It also has antiseptic properties. Women like to have glow skin, rose water does help here.
1. As Skin Toner
It is a good cleanser, tones up the skin and moisturizes as well. Rosewater keeps the skin radiant. It is useful in removing oils, dirt, and debris from the skin. It maintains the pH balance.
Rosewater has soothing properties. The face will feel fresh and the lingering rose aroma will certainly uplift one's mood. The net result is glowing skin, rose water needs to be used of course.
2. To reduce under-eye puffiness
Eye puffiness can be dealt with which is caused due to allergies, stress, eye fatigue, lack of sleep and so forth. The best way to get rid of eye puffiness is by giving it a cold compress or spray.
It has an anti-inflammatory property which reduces redness in the skin.
3.As a natural makeup remover
Makeup removers may not be suitable for sensitive skin. The soothing properties of rose water are good for all types of skin. When mixed with natural oil, it can rather dissolve most of the makeup without being harsh on the skin. The skin will feel fresh and hydrated.
Rosewater can indeed remove the makeup in a gentle way. Both rosewater and coconut oil are good for skin and safe for removing eye makeup as well.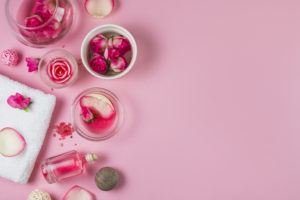 4. As natural face mist and setting spray
Face mists help to cleanse tone and hydrate the skin and maintain the skin's pH balance. Rosewater can be of use as a face mist.
Keeping rose water handy in one's bag can help you wipe off the sweat and dirt. It can be used during all seasons as it is gentle on the skin and hydrates it. A quick spray of rose water on the face or sweaty skin is rather refreshing.
5. Hydrating the skin
A busy schedule and a hard day's work can make the face listless. The skin can get parched due to sun rays. Dehydration and dryness can lead to a lot of skin problems such as premature aging, redness, tingling sensation and even rashes. It is best to keep the skin hydrated from inside as well as from outside. A hydrating spray is good to carry around in hot and humid weather conditions as one can use it to refresh the face.
One of the amazing benefits of rose water is that it can add a burst of moisture to the skin. The skin will feel cool, soft and soothed instantly. You can use it directly or mix rose water in your face mask, cream or lotion to add an extra dose of moisturizer to the skin. Glow skin rose water can make one look good and refreshed.
Rosewater gives a healthy glow to the skin and is good for boosting hydration. Mix a small amount of rose water in the moisturizing cream and apply it on the face for a refreshing feel. The moisturizer will get easily absorbed in the skin hydrating it from within. Glow skin rose water is what a person wants throughout the day to look attractive.