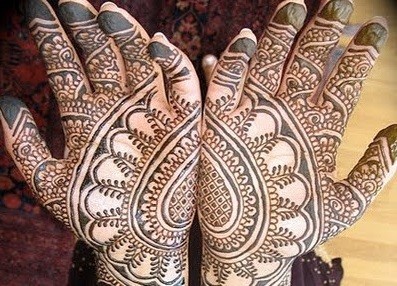 In India, Mehandi is very special and comes up with many designs just to decorate women hands for every occasion and also it is tradition to follow. Mehndi is the unique application of henna for doing temporary decoration to skin. This tradition will also practice in Pakistan and few other countries. Mehndi is a ritual art which has originated in ancient India. In this article we have shared 25 DIY Mehndi Designs for you by which you can try to apply.
25 DIY Mehndi Designs for you
1. Stylish Flower Design: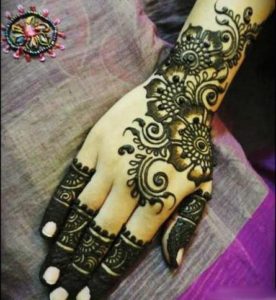 It is a very elegant side mehndi design that makes your hand look like a unique, stylish. This pattern of design has many forms, curves and flower print.
2. various shape of Flower Design:
This stylish pattern just resembles the Arabic mehndi design and make your look distinct and elegant. This style looks different from other design. Flowers has decorated with many dots that gives a unique look to your hand.
3. Arabic style mehndi design: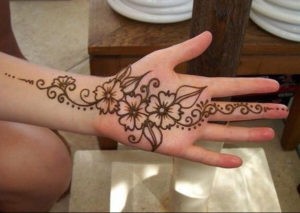 Arabic style is very popular mehndi design. These designs look like tough art but too comfortable and easy to apply. Arabic mehndi design pattern used to implement is Arab style. This method is so simple to use as it includes simple flowers pattern, curves that make a design more attractive.
4. Rangoli shapes mehndi design:
As the name indicates that rangoli designs are applied. It's one of simple, beautiful and very attractive design which people mostly practice.
5. Peacock style Mehndi: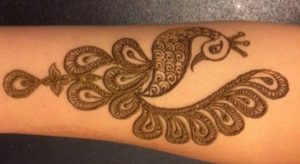 It is very famous Rajasthani Mehndi design looks beautiful when to apply this design on hands. And these type of designs looks trendy and fashionable. So People like to practice on their hands.
6. Simple Flower patent design: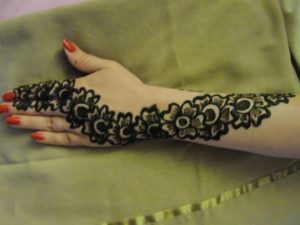 This simple flower design will give you striking design with flowers and give your design more attractive & stylish. It makes design perfect and impressive.
7. jali pattern: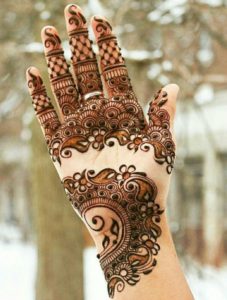 This design includes "jali" work on your fingers. The design on the wrist is admirable, by its semi-circular design.
8. Arabic Floral Red pattern: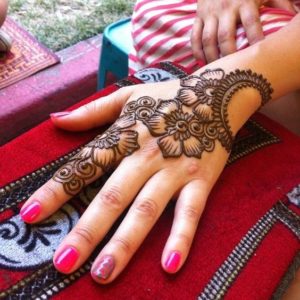 This design uses lots of lines to form a beautiful set. It isn't very challenging and ideal for beginners.
9. Moroccan Arabic henna design: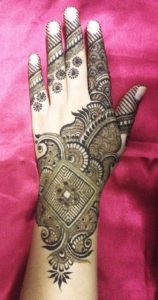 This is a beautiful combination of style line & floral patterns. It populary known as Moroccan Arabic henna design.
10. Simple mehndi design onFingers: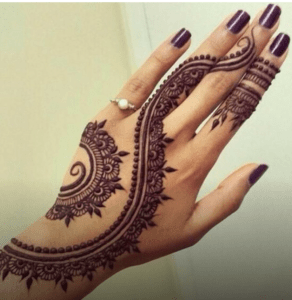 If you are wearing a party wear dresses like Anarkali or gown, try this simple mehndi design to balance out things as it looks stunning and attractive.
11. Mango motifs mehndi design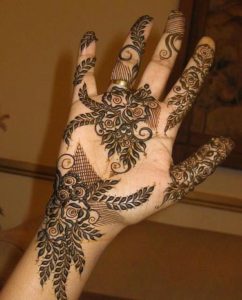 It is a Fantastic Rose mehndi design with jaali pattern that gives a great look on a lady's hand. As the name of the model indicates that design includes mangos motifs that are commonly combined with each other to make the full circle in the middle of your hand that gives charm look.
12. Traditional Arabic style henna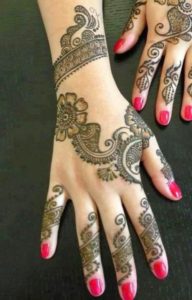 This design gives a unique and artistic turn to your usual Arabic henna.
13. Bangle Style Khaleeji Design: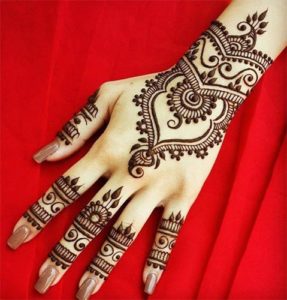 If you want different designs which look unique and used, then they can try this design. The design is the combination of invented heart, bright patterns also with small flower motifs so that these models give a different look to your hand from other. This design is tough to apply on hands, but it will look stunning and attractive.
14. Tribal Mehndi Design:
This design covers both through halfway of the palms & the arms. The style design that is beautiful & attractive.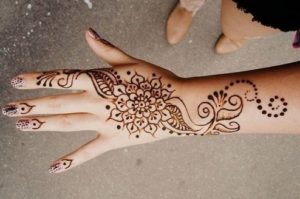 15. Bel and Jali Mehndi Design: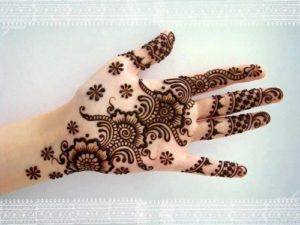 It beauty lies in its simplicity. Its bel and jali work applied on fingers that look amazing. Observe the strong chain of the main floral design applied on the hand & consist of tiny scattered deviate floral patterns.
16. Feet red Mehndi design: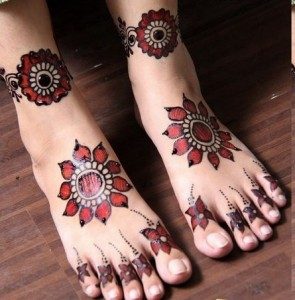 This is beautiful and joins beauty to your feet. It is such a simple to design that looks marvelous. Design consist of some floral patterns, small & big, Only one centrally located flowers, small design on fingers & so on.
17. Inverted heart art design: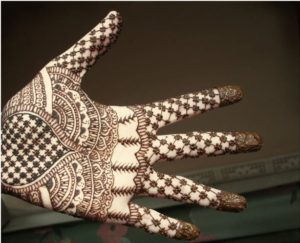 This design has an inverted heart artwork that stretches with tiny flowers. The pattern is very tricky minute specializing in the design make it the class apart
18. Intricate henna art: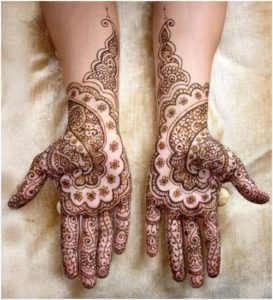 This design is an elaborate henna art that displays the creative use of space. The free space emphasizes the beauty of it. In this particular design, you can notice beautiful peacock motif also floral patterns.
19. Feet bridal art: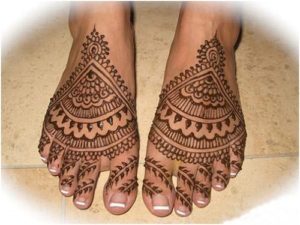 Your feet will look spotlight if you decorate with this pattern. It's very sturdy, unique and delicate design. The specialty of this design lies in the tiny leafy patterns that twine around the toe area.
20. Upper leg Mehndi designs: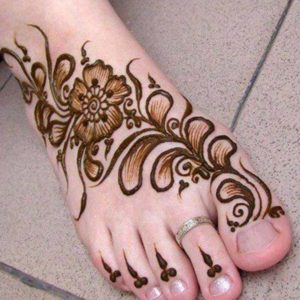 Floral designs and spins are also traditional patterns. Most creators practice darker shades of henna to generate this kind of design.This mehndi designs mainly applied to the upper leg.
21. Fingers Mehndi designs: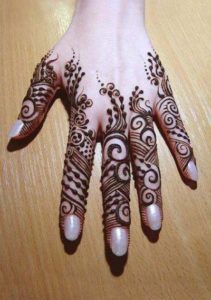 As the name indicates that it has applied on only fingers that give very straightforward and attractive look.
22. Stunning Henna design: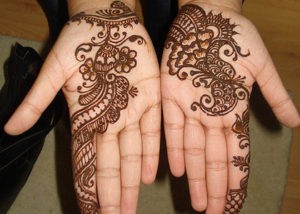 This simple Mehndi designs can be applied for both the hands in opposite direction. It gives stylish and attractive look. Design follows Arabic style mehndi design.
23. Stylish leg design: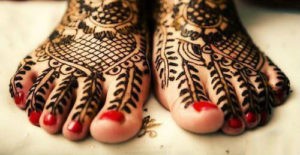 This looks very pretty design on your legs. It can be applied for both the hands in opposite direction.
24. Wrist Henna design: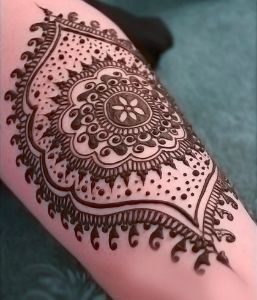 These Mehndi designs look stunning when you applied on the wrist. It is very simple and easy to implement that gives grand when you attend any functions. It consists of simple flower at the center and surrounded by jali.
25. Henna design on Shoulder: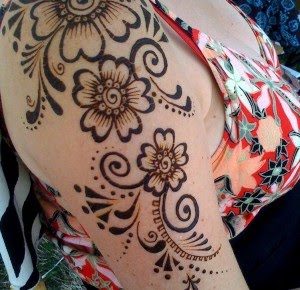 These designs have practiced to art on your shoulder. Many people fond of applying henna on shoulders that look trendy and attractive. Especially these look great when you create on your shoulders.
[/tie_slideshow]