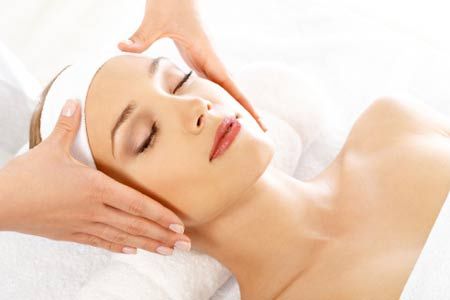 Facials are may be most popular among all beauty treatments. In fact, women of all ages generally agree that facials can make their skin look younger with an desirable glow. With so many varieties of facials available, you are free to opt the one that suits you best. Whether it be gold, diamond, fruit, chocolate or pearl facial, the results are same—skin that glows with health. You can even opt for some offbeat facials like paraffin facial, galvanic facial, seaweed facial, aromatherapy facial and even gemstone facial at your favorite spa. Have a look on 10 Wonderful Benefits Of Facials On Your Skin.
Specialized Cleansing, Toning, And Moisturizing:
Facials allows that your skin gets its dose of cleansing, toning, scrubbing and moisturizing under expert care. A facial session deep cleanses the skin and ensures that it is carefully exfoliated, so that the dead cells are done away with. It also hydrates the skin and makes your skin feel carefully nourished and pampered.
Improves The Overall Appearance Of Your Skin:
Facials help to perk up general appearance of your skin by giving it attention it deserves. Frequently, our skin bears the brunt of scorching sun, pollution, stress and aging. Facials are anticipated to repair the damages done to the skin.
Makes Skin Healthy:
Facials help to make the skin healthy. Thanks to variety of nourishing products like creams, face masks, gels, and moisturizers, which are designed to make the skin feel hale and hearty.
Skin Pores Can Breathe:
As a facial is being done, your skin is subjected to steaming, which helps in unlocking pores. At the same time, facials remove whiteheads and blackheads. It also removes the everything that blocks the pores of your skin. As a result, your skin can breathe freely.
Improves the Blood Circulation:
A good massage is an integral part of all facials. This, in turn, improves the blood circulation to facial area. In fact, a better blood circulation brings a healthy glow on your face.
Skin Correction:
Facials can efficiently cater to special needs of your skin. Get a facial if you want to hydrate your dry and dull skin or to make your drooping skin looks younger or maybe to add the unique glow to your lack-luster skin. You can also go for the facial to do away with blemishes. Whatever the skin needs are, there is a facial that can cater to your needs.
Skin Gets Tightened:
One of the amazing benefits of facial is it makes your skin look tight and firm, helping to make your skin look younger.
Relaxation:
Facials are amazing for relaxing your senses as well as your skin. Your skin feels rejuvenated and de-stressed as does your tired body and soul
Time For Yourself:
Whether you are a working woman, a new mother, or a student drowning in homework, 'ME' time is seriously lacking in most of our lives. Women are always up on their toes, juggling household chores and job responsibilities. In this process, you tend to forget that you need to devote some time to yourself too! When you opt for a professional facial treatment at your favorite spa, you choose to have some time for yourself. A facial session in a beauty salon is almost equivalent to one hour of undivided attention to yourself.
Pampering Yourself:
Our daily responsibilities hardly give us the chance to indulge in what we love most. Moreover, we often tend to put our needs and wishes on the back burner. But as a woman, you are special and you deserve to be treated like a princess. Opt for a facial and get yourself thoroughly pampered. Trust me, you would love it.
With so many benefits that it has to offer, you just cannot stay away from a relaxing facial session. When do you plan to get a facial done?
How often do you go for facials? What do you love the most about a good facial session? Share with us in the comments section below.
http://dbbeautyspecialist.com/wp-content/uploads/2015/01/Beauty-Tips-Facial-Skin-Care-Tips-2.jpg