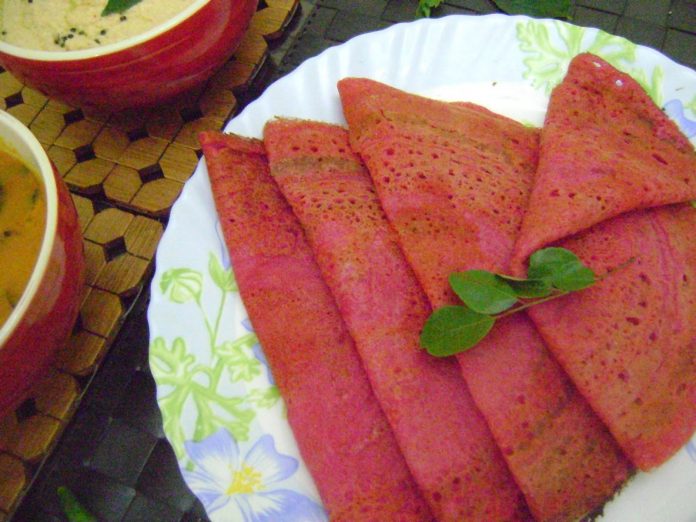 Delicious Beetroot Dosa Recipe For Breakfast
#beetroot #beetrootdosa #deliciousdosa #breakfast
Beetroot is one of the most important veggies you must have at least once in a week. Rich in iron & calcium, this is very important vegetable can now be turned into the something yummy for breakfast. Indians love to add colour to their meals, & beetroot is one such healthy veggies which may give your plate a rich  look.
To make this beetroot masala dosa, you may require to add potato too for a filling. The taste of fresh soft potatoes may only add to the flavour of sweet beetroot dosa. Kids, on the other hand are fond of this Delicious breakfast Beetroot Dosa recipe for one reason only – the colour.
So, what are you waiting for? Have a look at how can you prepare this simple & yummy beetroot masala dosa for breakfast.
Ingredients to prepare Delicious Beetroot Dosa Recipe
Beetroot : 1 medium & mashed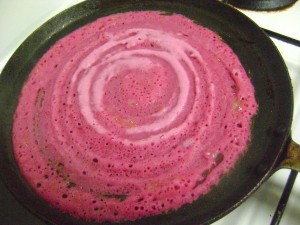 Potato-2 medium & mashed
Carrot-1 sliced finely
Onion-1 & cubes
Ginger-1 teaspoon
Garlic-1 teaspoon
Green chillies-2 sliced
Red chilli powder-1/4-1/2 teaspoon
Turmeric powder-1/4 tsp
Salt- as per taste
Urad dal-1/2 tsp
Mustard seeds-1/4 tsp
Curry leaves – handful Oil for frying
Procedure to prepare Delicious Beetroot Dosa Recipe
Cut beetroot,carrot & potatoes into big pieces & pressure cook them with water and salt. Once cooked mash veggies using an wooden spoon.
Now you require to prepare masala, ingredients : those are mentioned above
Heat oil in a pan & stammer the mustard seeds. Wait for the oil to get a little more hot & then add in the urad dal and saute till it turns to brown in colour . Now add chopped onion, ginger ,garlic & green chillies. Saute the ingredients till they are transparent in nature.
Then add to the pan the mashed vegetables. Using your finger sprinkle the red chilli powder,turmeric powder ,curry leaves and salt. Stir in the masalas well with the help of a spoon.
Add 1/4 cup water,mix well & cook for 2 to 3 minutes till water dries up.
It is time for you to now make your yummy dosa.
Then put one spoon full of masala on the dosa in the center and fold the dosa from both sides to make a roll.
Your beetroot masala dosa is now ready to eat. You can consume this healthy breakfast with green chutney on the side.