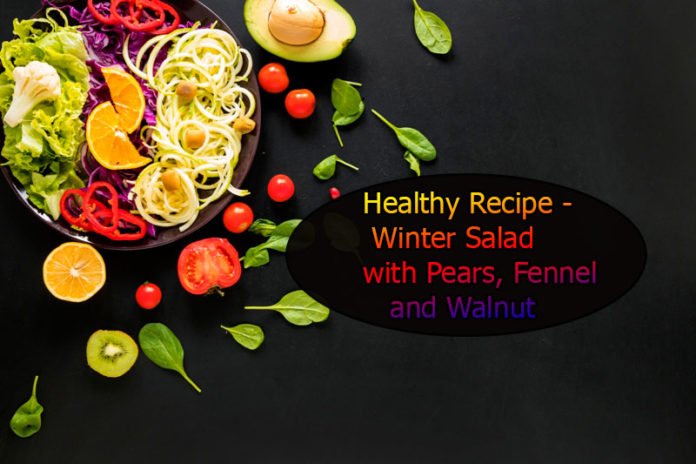 Winter salad with pears, fennel and walnuts can be served at parties and also be had at home at regular meals. It is very delicious and healthy to serve.
Whether one is dieting or would like to serve a tasty salad to the guests, it seems right to consider popular winter salad, pear juice as it would taste good indeed.
Salads are several to choose from and one can serve the guests these salads as they are healthy foods to be eaten.
Resembling no doubt a rounded, swollen cluster of celery stalks with green-tinged ribs, fennel is close to the herb and spice seeds of the same name. All share a mild, sweet licorice flavor. Strip away any coarse outer portion of the fennel bulb before making use of it in recipes.
Ingredients
• 6 cups mixed salad greens
• 1 medium fennel bulb, trimmed and thinly sliced
• 2 medium pears, cored, quartered and thinly sliced
• 2 tablespoons grated Parmesan cheese
• 1/4 cup toasted walnuts, coarsely chopped
• 2 tablespoons extra-virgin olive oil
• 3 tablespoons balsamic vinegar
• Freshly ground black pepper, to taste
Directions:
Divide the salad greens into 6 plates. Scatter the fennel as well as the pear slices over the greens. Sprinkle with Parmesan cheese and walnuts. Drizzle with olive oil and vinegar. Add black pepper, to taste. Serve immediately.
This Pear and Fennel Salad showcases the delicate flavor as well as the crisp texture of one of my favorite fruits. Combined with anise-flavored fennel, salty feta or blue cheese and nuts like walnuts or pecans, this salad is deliciously had on and on.
Pears are not exotic or bizarre like dragon fruit. They do not have an intense flavor such as a grapefruit.
One can add thinly sliced pears and shaved fennel to a bed of delicate butter lettuce and serve the delicious salad. Arugula, romaine, baby spinach, or baby kale would also taste good. Guests will simply love to taste this winter salad, pear juice.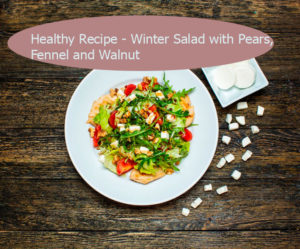 More about the recipe preparation:
• 2 ripe pears: any firm pear will do. Anjou, Seckel, Bosc or Forelle are all firm varieties.
• 1 fennel bulb
• baby salad greens
• walnuts or pecans
• feta cheese or blue cheese or goat cheese
• dressing ingredients: olive oil, sherry vinegar, Dijon mustard, honey, dried red pepper flakes, salt, and pepper
• garnish with fresh mint and/or fennel fronds
THIS PEAR AND FENNEL SALAD WITH CHEESE AND NUTS IS SIMPLE TO MAKE.
1. Start by slicing the fennel bulb very thinly. In order to tenderize it, toss it with a small amount of olive oil, lemon juice, and salt and set aside while one slices the pears.
2. Combine the dressing ingredients in a small jar. One is likely to have more than one need for this salad.
3. Toast the walnuts either by placing them on a baking tray and heating them in a 400°F. oven, or in a skillet on the stovetop over medium heat. Watch very carefully, as they will burn quickly. Once they do become fragrant and lightly browned, remove them from the heat and set aside to cool. Winter salad, pear juice can be had at parties.
4. Toss the baby greens, fennel slices, pear slices and most of the cheese and toasted walnuts with a few tablespoons of the dressing.
5. Arrange on a platter or in a salad bowl. Top with remaining feta cheese, walnuts and garnish with mint leaves and/or fennel fronds. Serve immediately.
Do try out this recipe and enjoy your meal.
Also read: 5 yummy summer salads to keep you hydrated