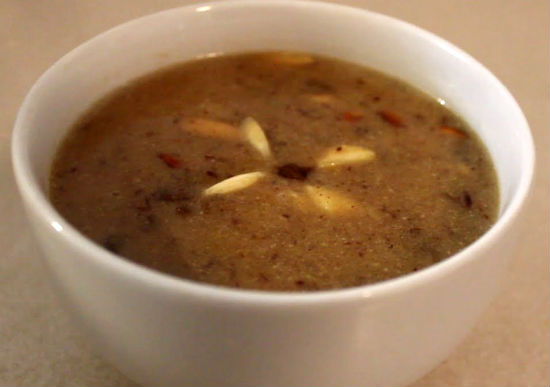 In this article, i have explained regarding two healthy nuts kheer recipes i.e., notes on how to prepare badam or almonds and dates kheer recipes in two sections. First look at the recipe to make badam Payasam or almonds kheer Read about Healthy Desserts Recipes
Recipe #1: Badam Kheer Recipe or Almond Payasam or Badam Milk Recipe
Badam or Almond Kheer is a rich delight prepared with almonds & milk. Any cold drink with the combination of milk is delicious and healthy. I have interested to try badam kheer as long & days pleading for it propelled me to try it. This is the very elegant & tasty dessert that can be prepared with very less effort also. I relish my kheer to be served cold.
Ingredients required making Badam Kheer Recipe:
Badam(Almonds) : 20
Milk: 1.5 cups
Sugar: 2 -3 teaspoons
Saffron: 2 strands
Cardamom powder: 1/2 tsp
Ghee: 1 tbsp
Dry nuts: kismiss, cashew nuts, and badam as per your taste
Procedure to prepare:
Soak badam in water for 4 – 5hrs. Remove peel from soaked badams and take into the blender. Grind the badams with some milk or water to make the fine paste & keep aside.
Now Soak saffron in the warm milk, Keep aside. Boil milk in the deep bottomed pan, join sugar & simmer it for about five minutes hence till milk becomes slightly thicker. Now combine the saffron milk & whisk well.
Then combine the badam paste. Let it boil for about three to four minutes. By this point, the mixture begins getting thicker. Combine cardamom powder, statue it immediately & switch off.
Now take another pan and heat it. Add ghee and dry nuts, fry till dry nuts turn to brown color. Switch off the flame and add to kheer
At last, season with chopped almonds & Serve hot or cold as you like.
Recipe #2: Dates Payasam or Dates Kheer Recipe
There are days while I buy things & completely forget regarding it…..Last week when I noticed the dates pack that was almost a month old I have interested to utilize it up quickly. As everybody at home likes desserts, I picked to make the fast and quick dessert…..& it was dated payasam or dates kheer for next meal dessert. Dates Kheer is a pretty healthy no sugar guilt free dessert that one can prepare it in minutes…it is so fast with minimum elements that are readily available in your kitchen. I didn't follow any appropriate recipe for preparing this kheer, simply made my own changes & the kheer came out delicious as well as healthy that you can enjoy every spoon.
Ingredients To Prepare Dates Payasam Recipe
Dates: 15
Boiled Milk: 2 and 1/2 cups
Coconut milk: 1/4 cup
Chopped dates: 1 tbsp
Chopped cashew and badam: 1 tbsp
Cardamom powder: a small pinch
Ghee: 1 teaspoon
Procedure to prepare:
Soak the dates in 1/2 cup of warm milk for about 15mins, Keep aside. While, chop the nuts & dates. Heat ghee in the pan – add nuts & dates and fry until dry nuts turn to crispy and brown. Keep aside.
Transfer soaked dates to the mixer, combine little milk applied for soaking & grind it to a semi fine paste. Now boil the milk and allow it to cook on the low flame about five minutes, then add dates paste.
Give an immediate mix & keep in low flame & cook for five to seven mins till it becomes lightly thick, Then join ghee roasted dates & nuts mix, coconut milk, cardamom powder, & provide an immediate stir. Switch off.
I kept ghee roasted nuts dates mix to sprinkled during eating….It tasted yum! Serve chilled or warm.